With one foot in the Central American jungles and the other in the Caribbean Sea, Belize may be small, but it's packed with adventure and culture.
Belize Barrier Reef is the second largest in the world, after Australia's, with over 100 types of coral and some 500 species of tropical fish. It's pure paradise for scuba divers and snorkelers; swim through translucent seas, snorkel above a kaleidoscope of coral, fish and turtles, while divers go deeper, investigating underwater caves and walls and the world-renowned Blue Hole. Add to this island living on the sandy cayes, where you can spend your days kayaking, windsurfing, stand-up paddle boarding, swimming, fishing or lazing in a hammock, and you've got the recipe for a perfect tropical vacation.
Inland, a vast network of national parks and wildlife sanctuaries offers a safe haven for wildlife, which ranges from the industrious parades of cutter ants to the national animal of Belize, Baird's tapir, or the shy jaguar. For birders are over 570 species, which roost along the rivers and lagoons and in the broadleaf forest. Keen-eyed visitors who take the time to hike can easily spot spider monkeys, howler monkeys and green iguanas. Even the showy keel-billed toucan – the national bird of Belize – occasionally makes an appearance in public.
Whether you're scuba diving the Blue Hole, zip-lining through the jungle canopy, rappelling down waterfalls or crawling through ancient cave systems, Belize is a genuine adventure.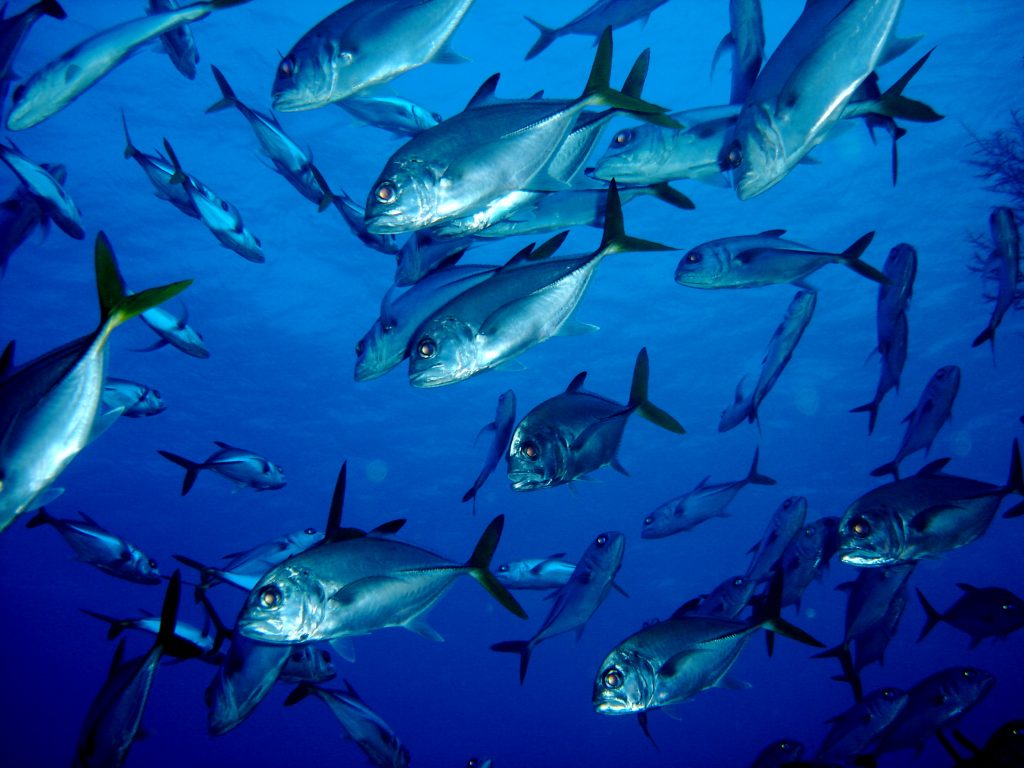 Packed with Adventure & Culture!
How do you want to travel?
Hamanasi Adventure & Dive Resort

A secluded & intimate boutique resort Hamanasi is nestled between the lush Maya Mountains and the turquoise Caribbean Sea. It is a special place from which you can explore the best of Belize above and underwater. Unwind in spacious, comfortable accommodations, sleep amidst the jungle canopy in a private treehouse or enjoy the breathtaking ocean views from the beachfront rooms.
Hamanasi is a PADI 5-Star Resort, with great access to the Southern Barrier Reef, Glover's Reef Atoll, Turneffe Islands Atoll, the Elbow, Lighthouse Reef Atoll, the Blue Hole, Half Moon Caye and more.
Coco Plum Island Resort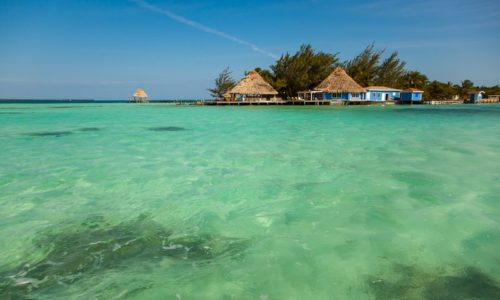 Coco Plum Island Resort is an all inclusive awarding-winning, unparalleled destination for couples in Belize. Discover an adults only haven complete with oceanfront accommodations, water sports activities and fresh cuisine.
Ramon's Village Resort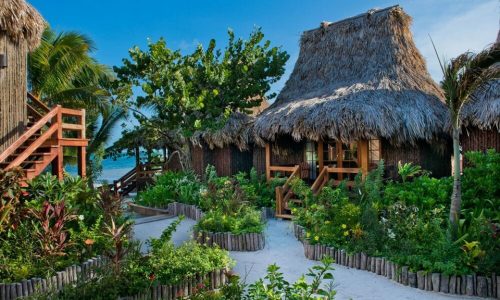 Ramon's Village is a sanctuary nestled in a tropical garden of Royal Palms, lilies, hibiscus and dozens of other types of tropical flora. It is also the perfect location for adventure seekers, scuba divers or snorkelers.
With 61 beachfront, seaside and jungle view cabanas, influenced by the Mayan culture, delicious food, wonderful people and excellent service & amenities Ramon's Village is the perfect back drop for your vacation.
Ramon's Village Divers has four skiffs ranging in size from 28′ to 34′. Each boat carries up to eight divers plus crew and explores the dive sites along the Belize Barrier Reef in the vicinity of Ambergris Caye. There are 40 plus sites all within a 5 – 15-minute boat ride. Ramon's Village Divers offer daily trips at 9:00am, 11:30am and 2:00pm to dive sites along the Belize Barrier Reef adjacent to Ambergris Caye.
Sunbreeze Hotel

Located on the beach, SunBreeze Hotel is a two story U-shaped Spanish influenced property with 43 rooms from Premier to economy, all located seafront overlooking the Caribbean Sea. Each room has a private bathroom, ceiling fan, cable TV, mini refrigerator, and Free Wi-Fi.
They offer beachfront dining at the Blue Water Grill, plus rejuvenating and relaxing massages at Delmy's Spa Studio. Their onsite dive center, Ambergris Divers, offers a full range of PADI courses and daily trips. Visit the many dive sites around the cayes, including the Blue Hole, Glovers Reef and more. You can also explore Belize through their many inland and fishing tours!
Sunbreeze Suites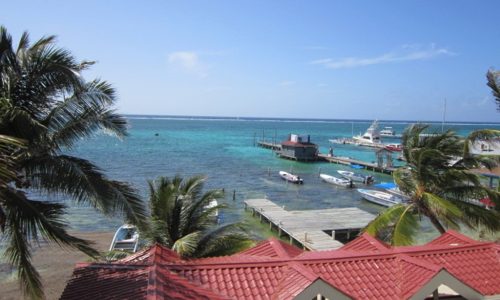 SunBreeze Suites offers twenty comfortable one-bedroom vacation suites overlooking the beautiful Caribbean Sea.  It is within walking distance to grocery stores, entertainment centers, local and gourmet restaurants, banks, fruit shops, cafes, and Belizean art galleries. This Belize Hotel offers an open air-beachfront restaurant & bar, pool, dock, and free Wi-Fi in common areas.
The Dive Center is conveniently located at their sister property Sun Breeze Hotel. Daily barrier reef boat dives  depart at 9.00am and 2.00pm.  Belize Dive Connection also offers weekly Night Dives at Hol Chan Marine Reserve, which is widely recognized as a premier night dive location.
Turneffe Island Resort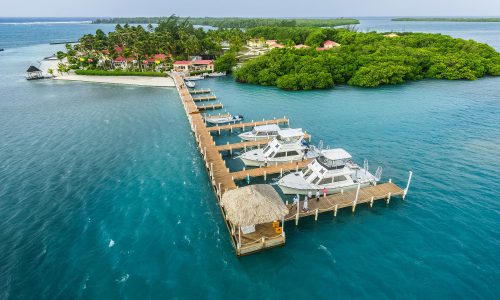 Turneffe Island Resort is located off the coast of Belize, just 30 minutes from the world famous Blue Hole, built around world-class, all-inclusive fishing, diving and snorkeling experiences. This 14-acre private island resort offers 22 guestrooms, where privacy is standard and the staff easily outnumber guests at any given time. With an amazing diving valet service, your gear is taken care of from dive to dive, so you can sit back, relax and soak in the sea spray between dives. Visit dives sites from the Sayonara Wreck to the Elbow.
Belize Dive Haven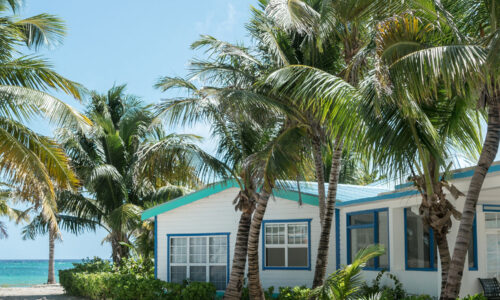 Belize Dive Haven is located in the pristine Turneffe Atoll, just 30 kilometers off shore from Belize City. Situated on 47-acres of breathtakingly beautiful and private land, nestled between palm trees and the Caribbean Sea, it is the the perfect getaway for couples, individuals, or groups.
Belize is home to the world's largest living reef and it offers diving locations that are suited for a wide range of skill levels, whether you're interested in a shallow dip or a challenging exploration in the Great Blue Hole.  Belize's warm welcoming waters make diving a comfortable experience and you'll be amazed by the crystal clear views even when you're 50 to 200 feet deep.
MV Belize Aggressor III

Belize is a wall diver's paradise. Sheer walls like Painted, Half Moon Caye and Quebrada are adorned with huge crimson gorgonians and giant orange elephant ear sponges. Moray eels, spiny lobsters and tiny arrow crabs hide in every crack and crevice of these beautiful coral formations.
The M/V Belize Aggressor III is a 33-meter luxury liveaboard that comfortably accommodates 18 divers attended to by an attentive crew of 6 members. Boat facilities include a spacious salon with full entertainment system, a sundeck with hot tub, chaise lounges, bar service, and nine spacious cabins. All cabins include a private head and shower, individual climate control and TV/DVD.
Diving on the Belize Aggressor III begins Sunday morning and ends Friday at lunch. There will be up to 5 dives each day as well as night dives.
Belize Aggressor IV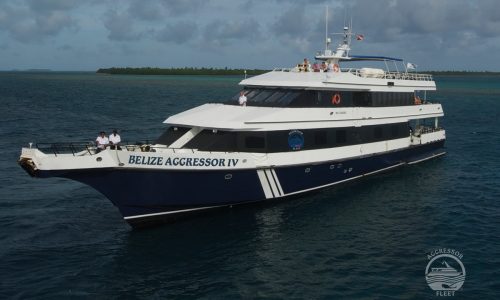 Every Saturday at 6 pm, the beautiful Belize Aggressor IV casts off from the Radisson Ft. George dock, located in the heart of downtown Belize City for a week of hassle-free diving to Lighthouse Reef, Half Moon Cay and the famous Blue Hole. The Belize Aggressor IV is a 36m liveaboard and comfortably accommodates 20 guests in 10 lavish staterooms.
Enjoy up to five dives per day with visibility reaching 36m/120ft. The diversity of colors and marine life including dolphins, turtles, reef sharks and rays will amaze you. Belize Aggressor IV cruises to the best atolls year round stopping at spectacular dive sites including Painted Wall, Half Moon Caye Wall, Quebrada and the Blue Hole.