The Derawan Islands are located off the eastern coast of Borneo in Indonesia, in the famous Celebes Sea. Derawan is an archipelago with the main islands being Derawan, Maratua, Kakaban and Sangalaki, forming small and remote atolls with sandy banks. This special place is considered the second most biodiverse place in the world. Derawan Islands are part of the Coral Triangle, which features 872 species of reef fish and 507 species of coral. The diving offers abundant marine life with a huge variety of coral reef dives, caves, walls, and lagoons, including a jellyfish lake visit. Divers will see sharks, schooling barracudas, mantas, whale-sharks and macro life. Derawan also contains the largest green turtle nesting site in Indonesia, making dives with turtles quite common.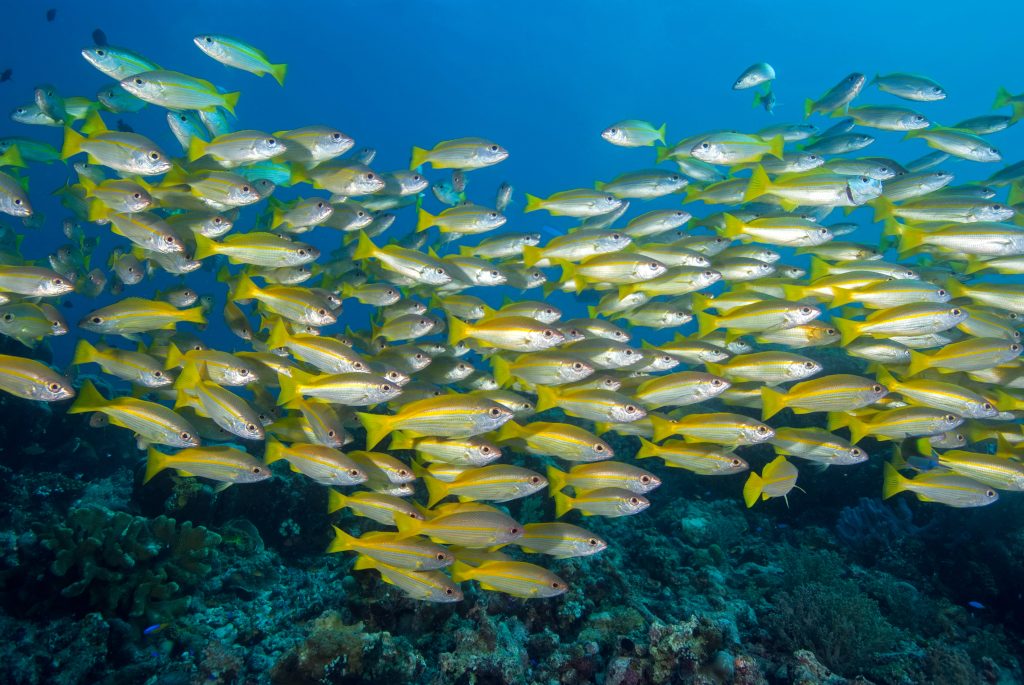 Derawan Island & the Sangalaki Archipelago!
How do you want to travel?
Derwan Dive Lodge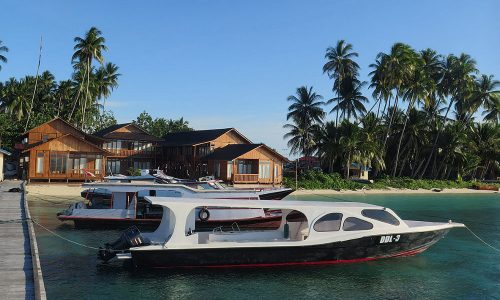 Located on the island of Derawan, which is the main island of the same-named archipelago, Derawan Dive Lodge sits on a private white sandy beach with 10 rooms and an onsite dive operation. Derawan's outstanding location offers you the chance to see mantas, a lake of non-stinging jellyfish and schooling barracuda, for the macro photographers there are pygmy seahorses, blue-ring octopus and frogfish.
Maratua Paradise Resort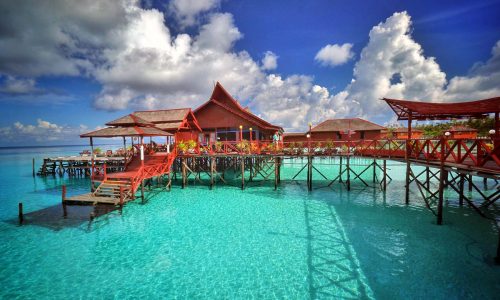 Maratua Paradise Resort is an intimate and comfortable resort on Maratua island. This atoll is tropical, partially encircling a massive lagoon on one end and fringed with sheer rocky walls and coral reefs along the other end. The resort offers water villas, a main hall for dining, a turtle station pavilion, and a dive center all located on stilts over the water as well as beach chalets lining  the seashore. The reefs here are covered with soft and stony coral, with the channel being the main attraction.
Nabucco Island Resort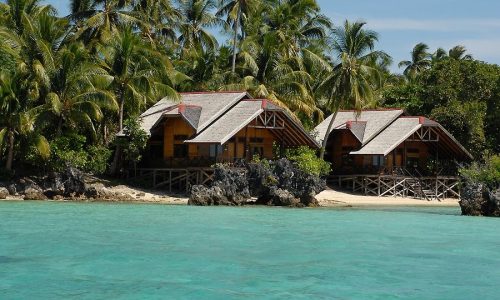 Nabucco Island Resort is located on a private island at the outer reef of Maratua Atoll. The resort can be reached by plane directly from Balikpapan! Both the arrival and departure charter flights are scheduled on Saturday afternoon only. On your arrival, you will be picked up from the Maratua Airport to Maratua Harbour for a 20 minute boat transfer to Nabucco Island. The resort offers eight double bungalows duplex-style and one single bungalow, all built with natural, local materials. Each spacious waterfront bungalow features a large roofed terrace with lazy chairs and direct access to the beach. Two of the bungalows are nestled in a tropical garden, surrounded by coconut trees and lush vegetation. All rooms have air conditioning and a ceiling fan, mini-bar, mosquito net, balcony, open bathroom with hot & cold water shower and toilet. The resort has 24 hour electricity and uses 220V sockets.
Sangalaki Dive Lodge
Sangalaki Dive Lodge is located on Sangalaki Islands, a secluded island with amazing biodiversity. Aside from scuba diving, Sangalaki is also a place for turtles and other marine conservation. Sangalaki has its emphasis on Conservation & Ecology; less that 3% of the Island is built upon, leaving the Tropical Rainforest to its' natural inhabitants and visiting guests. Sangalaki Island is the easiest place to see manta rays during the day and sea turtles at night.
MV Raja Manta Explorer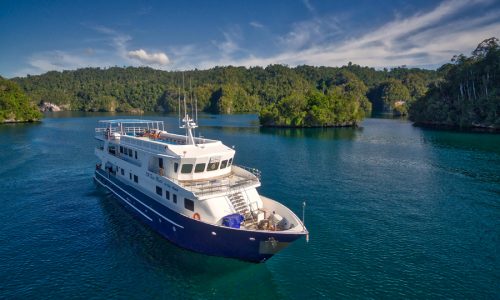 With a major makeover in 2016, the Raja Manta Explorer is a boat designed for divers, by divers. Offering exciting itineraries through Ambon, Banda, Sangalaki, Raja Ampat and other extended itineraries, the 37 meter (121 foot) vessel is stable, strong and reliable making it perfect for long range travel to the most desirable dive sites. With 8 double & twin shared-bath ensuite cabins and 3 shared cabins with wash basins, the Raja Manta Explorer can comfortably accommodate up to 22 passengers. There is an enormous dive deck with ample space for gearing up. Warm towels, hot drinks and fresh fruits are available after dives.
Raja Ampat Aggressor II
Seven and ten-night adventures aboard the Raja Ampat Aggressor II depart from Sorong exploring the Raja's main islands, Batanta, Misool, Salawati and Waigeo, also known as the "Four Kings." Select Derawan Islands excursions depart from Berau diving the Maratua Atoll, Sangalaki Island, and Talisayan, which is known for its prolific whale shark population. All dives are made from 2 dive tenders.