Lying just 8 degrees south of the Equator, Bali boasts a tropical climate with two seasons a year and an average temperature of around 82 degrees. The greatest feature of scuba diving in Bali is the rich and varied sites – deep drop-offs and steep banks, coral ridges and bommies, the U.S.S. Liberty (one of the most famous wrecks in the world, offering divers an amazing variety of marine life), volcanic outcrops and seagrass beds. With the colorful and diverse marine life, there's enough here to keep you coming back for more.
To the east of the island lies the Lombok Strait, the first deep water trench directly to the east of the Asian continental shelf. Through this channel flows the greatest volume of tidal water on earth, meaning regular visits from large and unusual pelagic fish like the incredible mola mola, or the sunfish. Bali's natural attractions include miles of sandy beaches, picturesque rice terraces, towering active volcanoes over 10,000 feet high, fast flowing rivers, pristine crater lakes, sacred caves and lush tropical forests full of exotic wildlife.
You can experience Bali on many different excursions and guided tours by coach, private car or even a live-aboard dive boat. South Pacific Island Travel can help you with all you travel needs.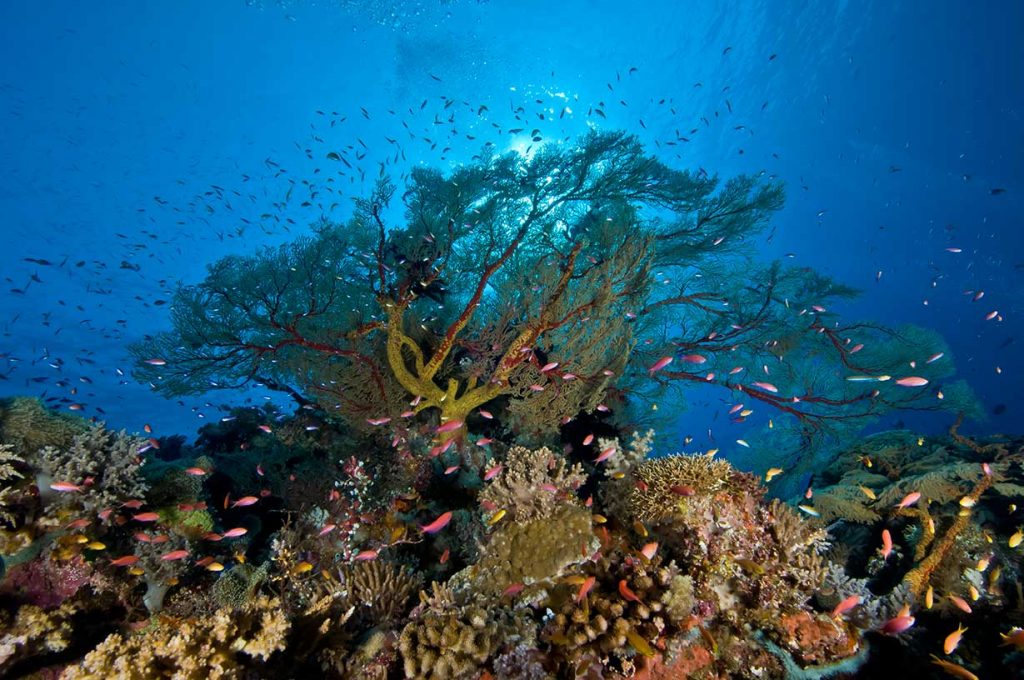 Explore Bali & dive into Komodo!
How do you want to Travel?
The Sandi Phala Beach Resort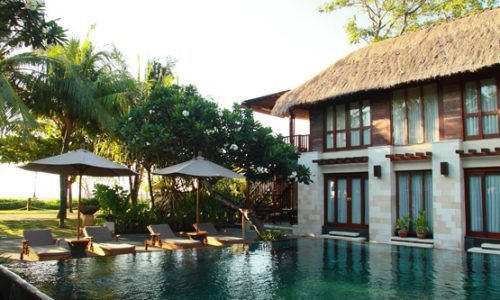 The Sandi Phala Beach Resort is a stunning boutique hotel set within a shady tropical garden that gently spills on to a secluded private beach of soft white sand. Their concept was to create a hidden world in keeping with tradition and in tune with nature, simple yet luxurious, exotic and romantic.  7 minutes away from the airport, The Sandi Phala renders the perfect place for a subtle and rejuvenating stay in the Island of Bali. The Sandi Phala also features a fine-dining French Restaurant, Ma Joly.
Angel Island Eco Resort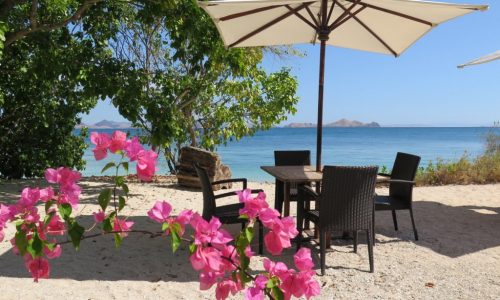 Angel Island is a small eco resort set on a stunning island just off the west coast of Flores in Eastern Indonesia. Built with clear goals in mind, Angel Island Eco Resort is the vision of two environmentalists who wanted to build a resort that combined their passion for being as close to nature as possible while maintaining quality and service.
With 10 private villas set throughout a hibiscus garden and surrounded by flourishing coral reefs, Angel Island is the only protected island in the area, allowing it to be a haven for wildlife, both in the water and on land.
Komodo Resort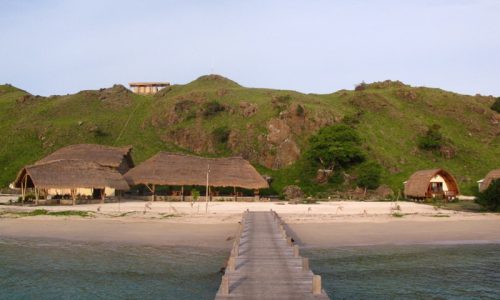 The Komodo Resort is located in Labuan Bajo, Sebayur Island, an hour's boat ride from the Komodo Dragon Tour on Rinca Island. Surrounded by the sea, the resort boasts a private beach area and on-site diving and snorkeling opportunities with world-class reef diving.
The sixteen seafront bungalows are made in teak wood from local controlled plantations. With private bathroom, terrace and garden, all the units are surrounded by the nature of a desert island, just few meters away from the beach and from our spectacular and pristine house reef.
Liberty Dive Resort
Liberty Dive Resort is a luxury dive resort located in Central Tulamben. They have 32 guest rooms each with air-conditioning, fan, ensuite bathroom with hot and cold water, refrigerator and mini-bar, tea and coffee making facilities. Diving with Liberty Dive Resort is easy! The wreck of the USAT Liberty is just 100 meters away from the resort and is Tulamben's greatest dive attraction.
Tasik Divers Komodo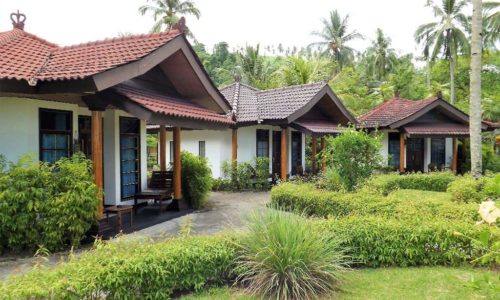 Tasik Divers Komodo offers one of most premium dive and stay packages in the area located in Labuan Bajo, also known as the gateway to some of the world's best diving and infamous Komodo Dragon.
Most of the diving they do is located within Komodo National Park; expect to dive the eastern side or northern part of Komodo Island. Their four-star partner hotel is Laprima. The single-building style hotel is closely located to Labuan Bajo and can be reached by foot in only 15 minutes. All 88 rooms have private a balcony (hill view or sea view) and boast clean, modern and comfortable accommodations.