Tucked away in the South Pacific, between Papua New Guinea and Fiji, the Solomon Islands are an untouched travel destination. They offer a chance to explore islands of exotic beauty, a unique blend of cultures, a fascinating history and a warm Pacific welcome. Scuba dive unexplored reefs, WWII history, Kastom culture, hard and soft coral, cuts and caverns along with pelagic life and shark action, all in one of the last wild frontiers left on planet ocean.
There are six major island and approximately 992 minor islands, atolls and reefs. The spectacular marine life in the surrounding waters make the islands an excellent destination for cruising, fishing and diving. The walls, reefs, pinnacles and coral gardens of the Solomon Islands support an amazing diversity and quantity of sea creatures.
Whether you hike, scuba dive, surf or kayak, get off the beaten track and discover these magical islands for yourself. From ancient ceremonial sites to WWII relics, you have a variety of options to fill your time visiting!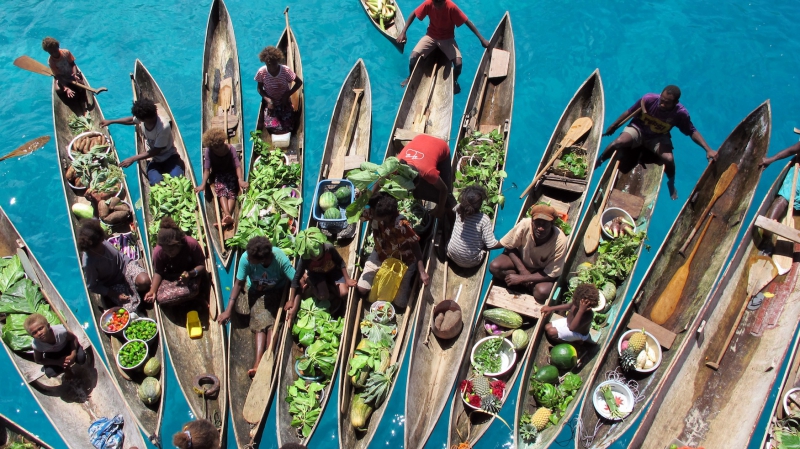 How do you want to travel?
Fatboys Resort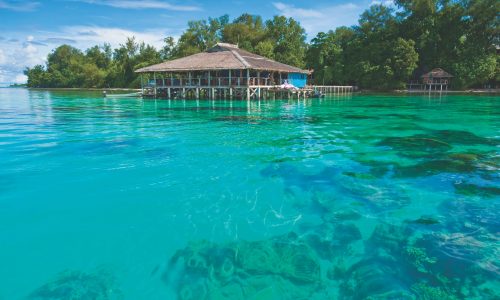 Fatboys Resort is just an 8 minute boat ride from Gizo on Mbabanga Island. A rustic, yet intimate resort with 4 private bungalows constructed of traditional leaf and local hardwoods and with large verandas. Wake up to picturesque views of Mt. Kolombangara, Kennedy Island and many other beautiful Coral Cays and reefs that dot the warm calm waters.  Enjoy the catch of the day in the restaurant and bar, situated 100 meters out on the resort's private jetty. Diving is arranged with local operators.  Snorkeling, kayaking, fishing and boating to surrounding islands will round out your stay here.
Tavanipupu Island Resort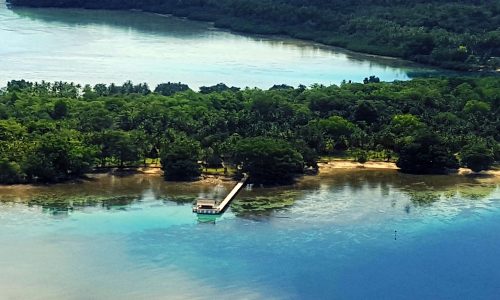 Tavanipupu, locally translated as the "passage of the Trigger fish" is home to clear blue waters and pristine reefs that surround the island and reach out to the unspoilt waters of Marau Sound. This magical island will captivate the most seasoned of travelers. Experienced chefs will tantalize your taste buds with fresh caught local seafood and international cuisine.
Built on the site of a former coconut plantation, the exclusive 13-hectare island features just 10 bungalows. Five of the 10 bungalows have been recently renovated and three more bungalows were built new at the start of 2016. Enjoy the accommodations, with rattan furnishings, a plush king-size bed, oversized bathrooms, and private deck with ocean views.
The Wilderness Lodge

Situated on a coral lagoon on Gatokae Island at the southeastern tip of the Solomons' Western Province, the Wilderness Lodge offers unique access to the rich natural and cultural world of Marovo Lagoon. Catering to a maximum of 12 guests the private Wilderness Lodge has been designed to meld the atmosphere of the Gatokae rainforest, ocean, and neighboring small village with Western comforts and convenience. Oceanfront bungalows feature traditional sago palm leaf roofs and polished hardwood interiors for the ultimate in cool tropical living.
Uepi Island Resort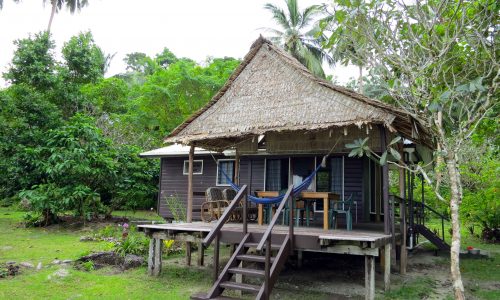 Uepi Island Resort is a small intimate property situated on one of the Barrier Reef Islands, defining the edge of the magnificent Marovo Lagoon with white sandy beaches and spectacular wall diving. Rarely will you see such high concentrations of fish, sponges and corals in such a diverse environment, ranging from lagoon coral gardens to vertical drop-offs of over 2,000 feet. There is a plethora of other activities including snorkeling, cultural visits to local villages and bushwalking.
Uepi accommodating up to 26 guests at any one time. All rooms have private facilities, 24 hour power, fans and screens. Breakfast and dinner are served in the "leaf haus" dining deck at the main house. Lunches are delivered to your room.
First-class dive sites are only minutes away from the dive shop; conveniently located either off the edge of the island or just a short boat trip away. Rarely will you view such diverse concentrations of marine-life in such a varied environment, ranging from lagoon coral gardens to vertical drop-offs.
Zipolo Habu Resort

Located on Lola Island in Vona Vona Lagoon in the Western Province of the Solomon Islands, Zipolo Habu Resort is nestled within a perfect blue lagoon, fringed by white sands and tall green palms, Lola truly reflects a quintessential island paradise.
The resort is the result of many years of hard work by owners Joe and Lisa Entrikin who, along with their children, designed a place for those keen to enjoy a true island living experience.
A 25-minute boat trip from Munda on Lola Island, Zipolo Habu offers a hint of castaway chic. Dive Munda offers complimentary drop offs and pic-ups for guests staying at Zipolo Hapu Resort. Accommodation is in traditional-style leaf-houses, most with private facilities and 24-hour power. Superb meals and the coldest beer are served in the waterfront bar/restaurant.
Dive Munda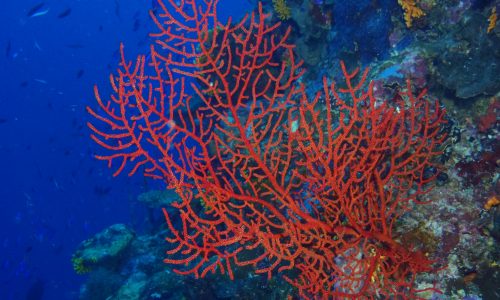 Dive Munda is a multi-award winning SSI Instructor Training Center in the Western province of Solomon Islands committed to sustainable dive Eco-tourism.  The diving in Munda is very special and magical - possibly some of the best sites in the world.  Spectacular walls drop off to over 600 meters. Grey, Blacktip and Whitetip Reef sharks routinely patrol, as do Hammerheads. Eagle rays, Dogtooth Tuna, Barracuda and other pelagics are also common. Encounters with any of the species of big sharks and rays are always exciting, and divers who prefer macro subjects will be enthralled by the smaller critters such as Pygmy Seahorses, varieties of Anemone fish, Spiny Lobsters and Fiery Dartfish.
Munda's reefs are in pristine condition, with lush hard and soft corals and gigantic sea fans. Snorkelers will be mesmerized by the extensive, intact coral gardens in the shallows. In addition to the reefs and abundant marine life, Munda's seabed is littered with wrecks from WWII, with fighter planes, bombers, a Japanese freighter and a recently discovered dump site with tanks. Visibility varies from 15 to 40+ meters. The wet season tends to begin late December and tapers off in March, although you can dive year-round.
MV Bilikiki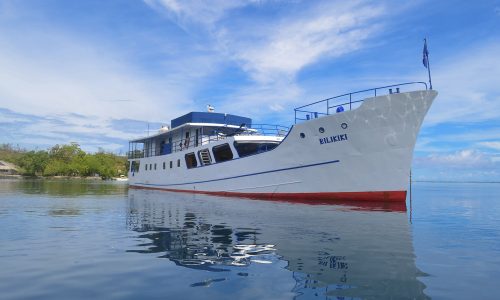 The 125 foot Bilikiki offers 10 deluxe cabins. The boat explores the Florida Islands, the Russell Islands, Mborokua (Mary) Island and Marovo Lagoon in the New Georgia Islands. The walls, reefs, pinnacles and coral gardens of Solomon Islands support an amazing variety of sea creatures, with exceptional visibility and warm water year round. Within a few yards of each other schools of anemone fish, angel fish, butterfly fish, or bumphead parrot fish can be spotted. Keep your eyes open for "big eye" Trevally and large schools of barracuda.