Sunny, unique and unspoiled, the Fijian islands are one thousand miles of pristine white sand beaches, fabulous coral gardens, dramatic drop offs and crystal blue lagoons. Situated between Hawaii and New Zealand, the Fiji archipelago consists of over 300 islands.
The international airport is located in Nadi, on the main island of Viti Levu. Nadi is where most visitors hear their first BULA. A 10 minute ride from the International Airport is Nadi town, the focal point for many of Fiji's best known hotels and resorts and a gateway to cruises and boating activities. Nadi is a convenient stepping off point to explore Taveuni, Vanua Levu and the nearby Mamanuca and Yasawa Island Groups.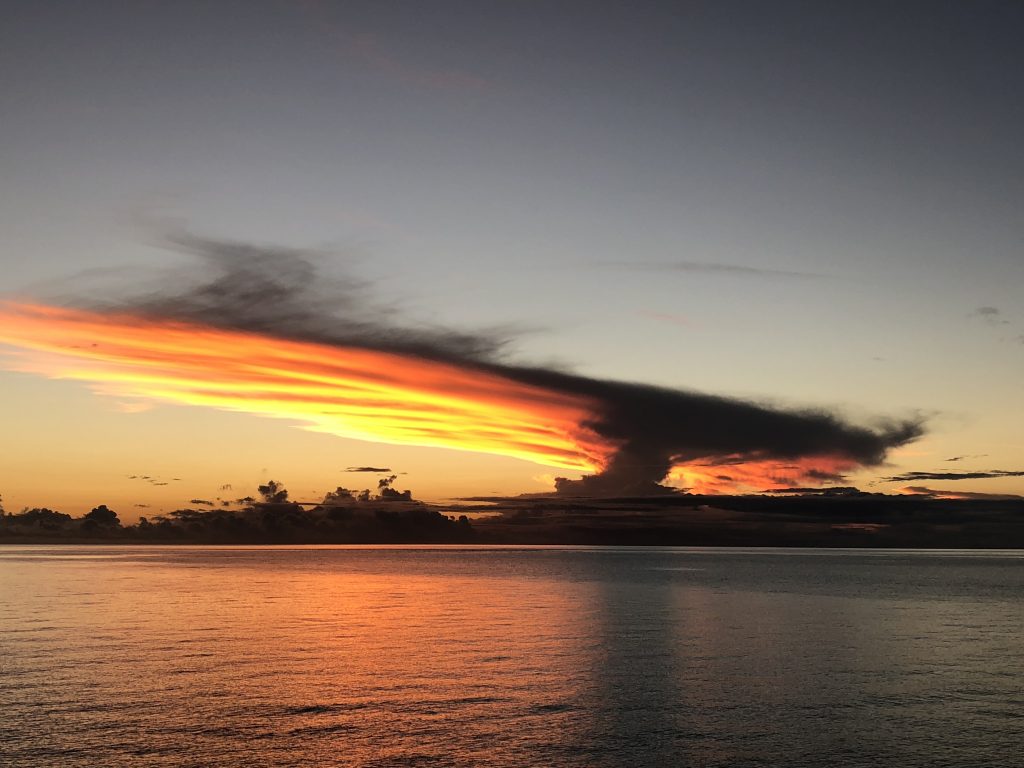 Sunny, Unique & Unspoiled
How do you want to travel?
Adventure Resorts
Family Resorts
Beqa Lagoon Resort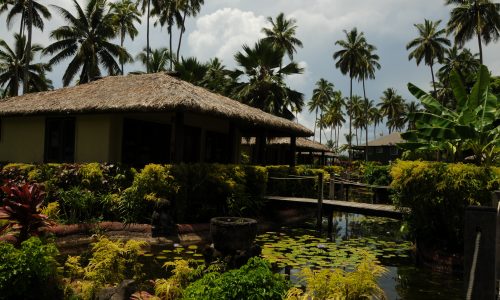 To the south of Viti Levu, less than an hour's boat ride away is Beqa Island, home to Beqa Lagoon Resort. Here you can achieve some of the famed South Pacific paradise atmosphere without visiting the outer islands. The resort is centred around a large lawn, decorated with tropical plants, and features a large beachside swimming pool with views over Beqa Lagoon. There are 12 Beachfront bures including a Honeymoon bure, you can expect your own private courtyard, plunge pool and hammock area to drink in your unrestricted seaview. There are also 9 Garden bures built around a delightful koi fish pond and 4 Twin-bedroom Garden bures. Besides daily boat dives, there is unlimited shore diving as well as the option to go on an exhilarating shark feeding dive.
Jean-Michel Cousteau Resort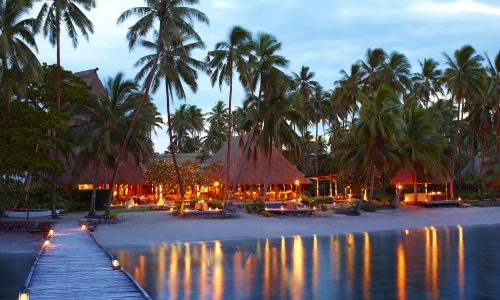 This award winning five star resort is one of the most renowned vacation destinations in the South Pacific. Located on the island of Vanua Levu on 17 acres of a coconut plantation, the accommodations overlook the peaceful waters of Savusavu Bay. Built on the site of a former coconut plantation, the 17-acre resort features 25 spacious bures. Built of local timbers, these traditional thatched Fijian bungalows provide privacy, comfort and personalized service. Each bure features rattan furnishings, king-size bed with custom-made mattress, small sitting area with desk, wooden louvered windows, overhead fan, and private deck with garden or ocean views.
Koro Sun Resort & Rainforest Spa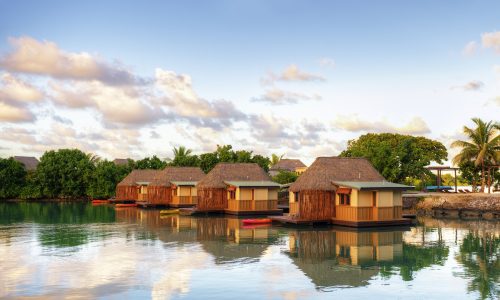 Located on Vanua Levu, the resort's air-conditioned bures and luxury villas are private, surrounded by lush tropical gardens. 10 new Edgewater Bures each have a private porch and beach area with ladder that leads directly to the lagoon. In addition to PADI certified Koro Sun Dive, the resort offers snorkeling, kayaking, golf, tennis, trekking and biking.
Matava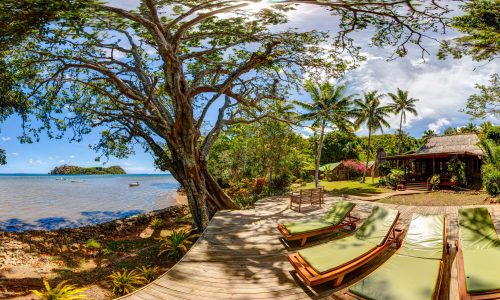 Find your spirit of adventure as you experience the magnificent beauty of a remote unspoiled tropical Fijian Island. Plunging volcanic rain forest slopes meet azure coral lagoons and the Great Astrolabe Barrier Reef, a rare untouched slice of nature unfolds before your eyes. No roads, no noise, no stress! At Matava, traditional Fijian bures set amidst lush tropical surroundings, accommodate up to 22 guests and offer privacy, comfort and superb ocean views. The 'bures' all have polished timber floors, louver windows, timber four poster beds and private decks with superb ocean views. Mad Fish Dive Centre is Matava's on site PADI 5 Star Dive Center. They dive the Great Astrolabe Reef extensively and cater for all levels of diver from beginner to experienced. The staff are a dedicated team of professionals who look forward to guiding you through varying sites where you can expect a kaleidoscope of colorful corals and wonderful marine life.
Paradise Taveuni Resort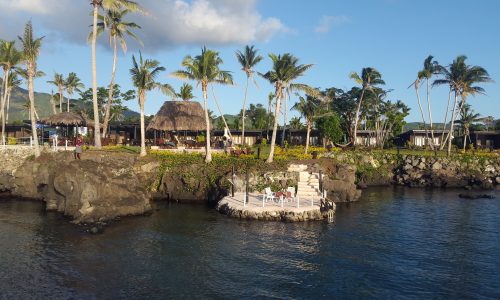 Minutes from pristine reefs and diving directly from the resort marina or via dive boat, experience silt free, crystal clear water giving visibility of 100 feet plus! Paradise Taveuni offers 16 Fijian style accommodations, each with both indoor and outdoor showers, a king size bed in the private bedroom and spacious lounge room. If the gorgeous horizon edge swimming pool doesn't tempt you, there are many activities to try. Spectacular snorkeling is available from the resort's private marina, as well as kayaking and safe ocean swimming. Full service dive center takes care of all the little details and allows you to dive stress-free. Download your photos and videos in the Guest Photography Room, complete with air conditioning and power points for charging your devices.
Oneta Resort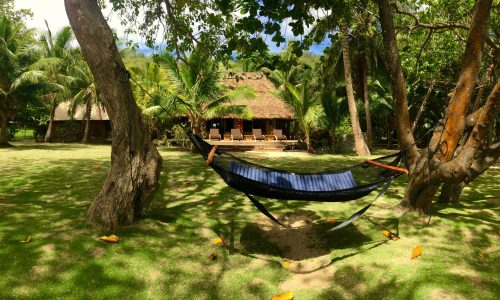 An amazing fishing and diving resort in the Kadavu Island group. Oneta is a small run eco-resort on one of the most untouched and beautiful islands in Fiji. It is very remote, it's a little wild and it is somewhat hard to get there, but that is the point. Hidden away on an island with no roads, Oneta is one of the few places in the world where you can find both quiet, solitude and adventure. All bures are well appointed with all natural bathroom products, three-speed ceiling fans and all electricity at the resort is 110 volt with U.S. style plugs. Dive the Great Astrolabe Reef, with colorful corals, reef sharks and turtles.
Qamea Resort & Spa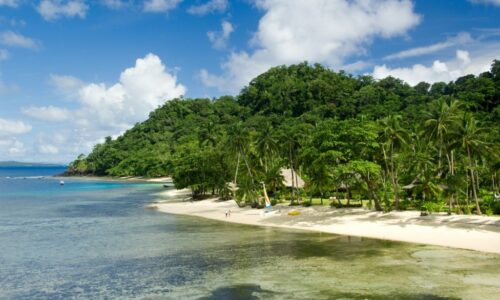 The only resort on Qamea Island, this award winning boutique resort accommodates a maximum of 34 adults, with 17 air conditioned beachfront Bures and Royal Beach Houses nestled among swaying coconut palms and lush tropical gardens. All accommodations are beachfront with sweeping views of the ocean and sunsets. Qamea's PADI 5-star dive operation features such world-class dive sites as the Purple Wall, Qamea Freeway and more. Most dive sites are within minutes of the resort, so you will not waste valuable holiday time on a dive boat. They also offer charter dives to the White Wall and Rainbow Reef in the Somosomo Straights and to the Yellow Wall. And don't forget to indulge in Spa treatments featuring Guinot products and fully certified spa therapists.
Taveuni Dive Resort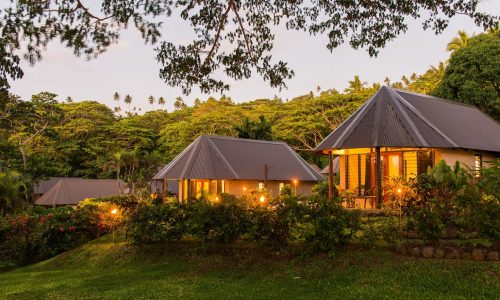 For 14 years, Taveuni Dive has been the preferred choice for diving on the island of Taveuni.  They listened to what their guests wanted in a dive resort, and built it.  The first sustainable resort on Taveuni, Taveuni Dive Resort provides guest accommodations, dining, scuba diving, and tourism activities to dive groups, small groups of scuba divers, and other tourists attracted to the island.  Taveuni Dive Resort has eight bures, each named after a favorite Rainbow Reef dive site. Each bure is carefully located to balance your need for privacy with easy access to the social areas on the resort grounds, including the Salty Fox Bar & Grill, the pool, and seating areas around the resort gardens.  They are a PADI Gold Palm 5-star IDC facility, offering a full range of courses — whether you want Discover Scuba or to become a Dive Instructor.
Volivoli Beach Resort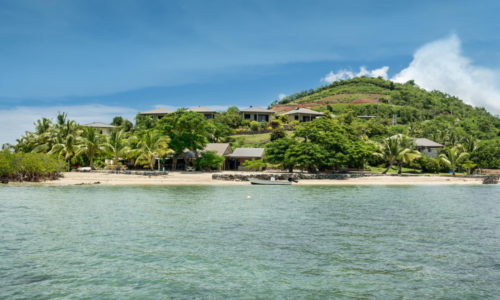 The word 'Volivoli' means sand in the local dialect, and the beach here was named after the sand spit which stretches more than 250 feet out to sea, providing a wonderful sunbathing spot and marking the most northerly point of Viti Levu. With Ra Divers, you will find a variety of marine life and fascinating shipwrecks nearby, just waiting to be explored. Offering Bure accommodation with ocean views and lodge style rooms, Volivoli's location and genuine hospitality attracts both the adventurer and those in search of relaxation.
Wananavu Beach Resort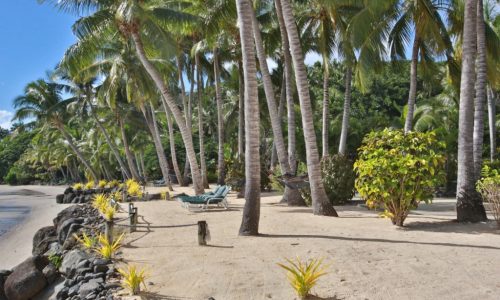 Situated on Fiji's main island at Viti Levu's most Northern point – 2 1/4 hours drive from Nadi Airport, Wananavu Beach Resort offers you the feel of an island paradise with the convenience of the mainland. Wananavu Beach Resort has 34 deluxe bures situated on the palm-fringed ocean or amongst the lush tropical gardens, with spectacular reef and sunset views. There's always something for everyone; diving, cultural activities, picnics to secluded beaches, village tours, snorkeling, fishing, kayaking or just lying by the pool with a book and a cocktail.
Coconut Grove Beachfront Cottages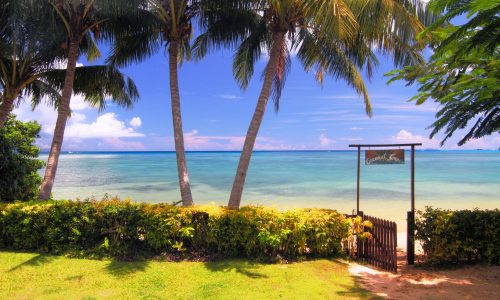 A small, intimate resort on the island of Taveuni, situated on the ocean on a private white sand beach. Surrounded by mango trees and coconut palms, an ideal setting for diving, snorkeling, bird watching and nature walks. With just three bungalows you are assured a very private holiday.
Waidroka Bay Surf & Dive Resort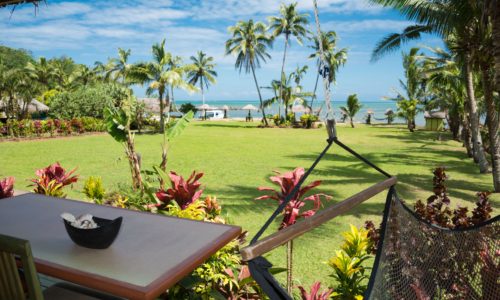 The perfect combination of pure relaxation and exhilarating action, Waidroka Bay Resort offers mind-blowing Surfing at Frigates Passage and many other breaks like famous Pipe or Serua Rights, world class Diving at the famous Bega Lagoon & Reef, as well as shark diving, Game- & Sport Fishing, Snorkeling, Kayaking, Rainforest-Trekking and all that is expected of a Fijian oceanfront adventurer paradise.
Castaway Island Resort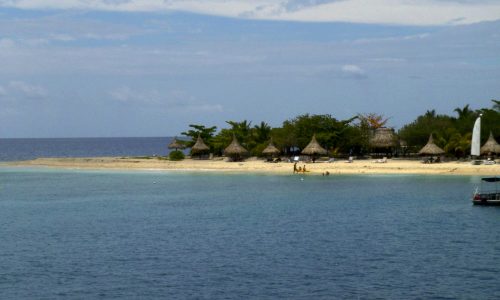 Iconic private island resort is surrounded by white sand beaches and encircled by vibrant coral reefs. Castaway offers traditionally thatched Fijian style bures with a choice of beach front, ocean view or island location. All bures feature one king size bed and most include two additional twin beds, comfortably sleeping up to four people. Castaway sits on Qalito, a small reef-fringed island in the Mamanuca Group, not far from the main island of Viti Levu. Explore over 30 dive sites within 20 minutes with PADI 5 Star Castaway Dive Center.
Yasawa Island Resort
Yasawa Island Resort & Spa is an exclusive retreat on one of the most remote and unspoiled islands of Fiji. Just 18 luxury bungalows are hidden among luscious tropical greenery, each only a few steps from a pristine, silky white-sand beach. Celebrated for its pristine location, Yasawa Island Resort & Spa offers guests from unique, authentic and enriching travel experiences.
NAI'A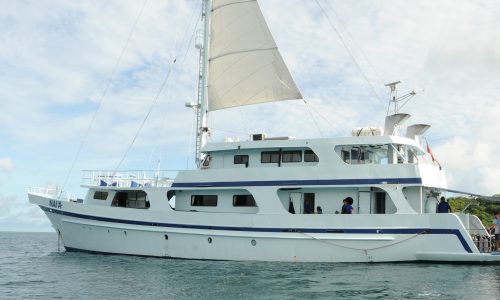 Custom built for live-aboard diving, the Nai'a accommodates 18 passengers in 9 spacious, air-conditioned staterooms all with ensuite bathrooms. Nai'a's sophisticated sailing rig affords her the range, comfort and stability of a true expeditionary vessel.