Sprawled across the Equator in the middle of the Indian Ocean is the unspoiled tropical jewel called the Maldives. The Maldives consist of 1190 islands with 26 major atolls strewn across an area of 500 miles by 75 miles. Only 200 of the islands are inhabited and 87 of those have been developed as resorts.
The Maldives are an unforgettable and marvelous part of the world and a very special place for divers and people who love the sea. Whale sharks, normally an elusive species, are not uncommon as they migrate from the waters of Thailand to S.W. India.
There are three distinctly different types of scuba diving in the Maldives: inside the atolls, outside the atolls and inside the channels or passes, which is where the currents are strongest, and you'll find the greatest congregation of fish life. Most intriguing are the cleaning stations, found around every corner and under every ledge. Groupers, Snappers, Surgeon-fish, Eels, Parrot-fish, even Giant Napoleon Wrasse park casually in corners, oblivious to all, (including cameras) while armies of wrasse, shrimp and other assorted cleaners pick at debris in their open gills and cavernous mouths.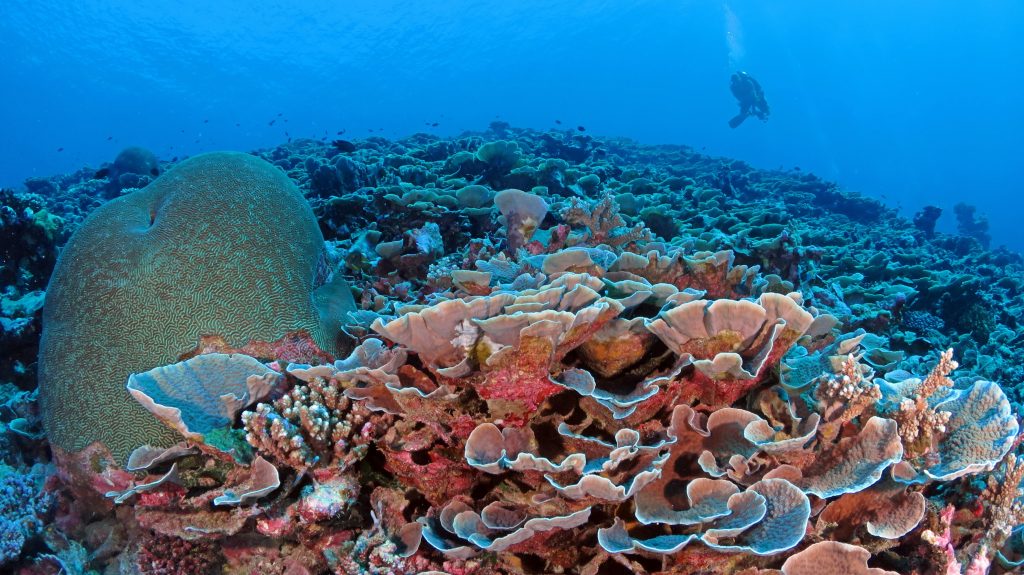 Come explore the Maldives!
How do you want to travel?
Angsana Ihuru Resort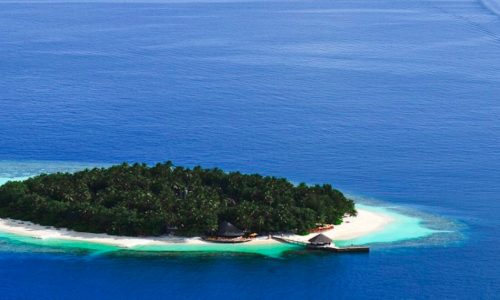 Angsana Ihuru Resort is a true island paradise. Surrounded by turquoise waters and white sandy beaches, you can spend your days relaxing on the beach, diving a nearby shipwreck or snorkeling on the house reef.
You have the option to choose between a Beachfront Villa or a Beachfront Jet Pool Villa. The Beachfront Villa is decorated with jazzy wall art, bursts of color, and quality furnishings. The Beachfront Jet Pool Villa has a spectacular location facing the beach.
Perfect for beginner & experienced divers, Angsana Ihuru PADI training center on-site. If you prefer to stay on top of the water, you can challenge yourself with a variety of sea sport activities that include Hobie Cat sailing, windsurfing, reef fishing, sports fishing, fun tubing and wakeboarding.
Bandos Island Resort

A beautiful coral island situated about 4 miles from Male International Airport. Bandos Island Resort offers 225 rooms discretely tucked away in lush tropical vegetation, surrounded by palm trees and white sandy beaches. The natural splendor is complemented by the modern amenities of the resort, which ensure that your stay is both comfortable and memorable.
Hulhule Island Hotel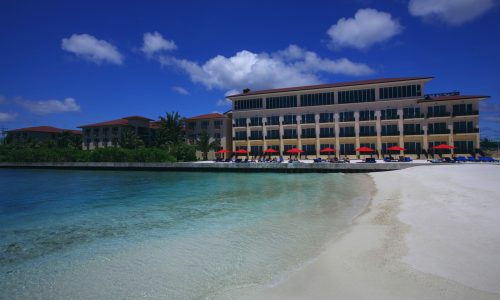 Hulhule Island Hotel is the gateway to this beautiful paradise. Nestled in a lush and tropical landscape, the hotel is just a five minute walk from Maldives International Airport and 10 minutes by boat to the capital city Male.
Kurumba Maldives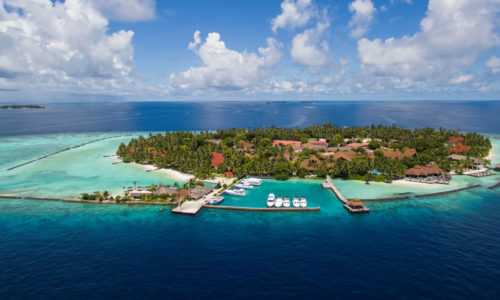 Kurumba Maldives is an island resort, just a 10-minute speedboat ride from the airport. As the Maldives very first private island resort, Kurumba is proud of its heritage and remain faithful to their roots by offering traditional Maldivian experiences to all their guests.
One of the premier snorkeling and diving resorts in the Maldives with PADI certified instructors. Enjoy abundant marine life, millions of years of coral growth and schools of playful fish darting as you descend. Kurumba is an island that teems with life above and below the water.
Lily Beach Resort & Spa

Lily Beach Resort & Spa is perfect for a restful holiday or romantic getaway. With a variety of luxury villas to choose from you can stay on the beach or over the water and feel relaxed and at ease. Leave no treasure unturned and explore beyond Lily Beach Resort & Spa to experience all the Maldives has to offer.
Hop on board the traditional dhoni  to visit one of the local islands to get an insight into the Maldivian culture and way of life, or sail at a leisurely pace across the picturesque scenery of the Atoll with its palm-fringed island, scuba dive or snorkel at colorful coral gardens. If fishing is something that reels you in, you will enjoy spending the day out on the ocean, brushing up on your fishing skills and if lucky, maybe even catch your triumphant fish.
Mirihi Island Resort

In the warm waters of the azure Indian Ocean lies a tropical dream island – Mirihi Island Resort. Combining modern and traditional elements, Mirihi is located in the South Ari Atoll, reachable from Male on a 30-minute picturesque seaplane flight. Due to its size and limited number of Villas, Mirihi is considered as being one of the smallest islands in the Maldives.
MV Emperor Explorer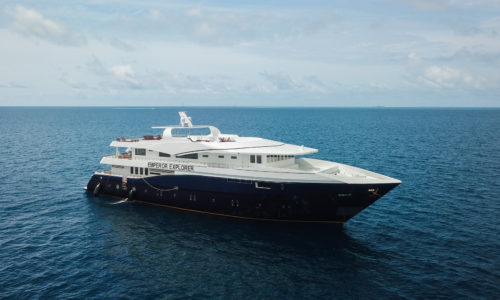 The MV Emperor Explorer is 138ft. dream vessel. Brand new August 2019, it's four decks easily accommodate 13 spacious en-suite staterooms, all of which offer air-conditioning and a mixture of comfortable king, queen, and twin beds. While onboard, enjoy five-star meals and a complimentary glass of wine with dinner in the open-air dining area or air-conditioned saloon. 4 dives a day are done from the dhoni, plus complimentary Nitrox for certified Nitrox divers.
Maldives Aggressor II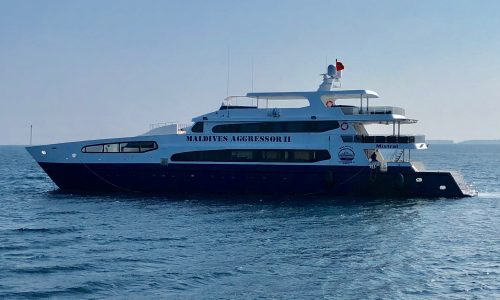 The Maldives Aggressor II is a 135-foot vessel offering year-round itineraries to three "thrilling" areas. The 'Best of the Maldives' offers seven and ten-nights charters with four different itineraries that include areas of: North Male, South Male, North Ari, South Ari, Vaavu and Rasdhoo which includes spectacular channel-drift dives, wrecks, pinnacles and world-famous night dives. You will embark and disembark from Male.
The 'Far South' area offers seven-night charters, mostly includes channel dives, wrecks, cleaning stations, coral gardens. Dive sites may include South Male, Vaavu, Meemu, Thaa, Laamu, Huvadhoo, Foammulah, and Addu. You can expect to see mostly pelagic fauna, reef sharks, whale sharks, oceanic mantas, tiger sharks, eagle rays, marco, beautiful overhangs with soft corals, schools of reef fish and hammerheads.
The third area, 'Southern Hemisphere', offers both seven and ten-night charters with three different itineraries to choose from. Some places you will visit are South Male, Vaavu, Meemu, Laamu, Thaa, Huvadoo, Foammulah and Addu. This itinerary will include mostly channel dives and offers exciting marine life such as pelagics, reef sharks, whale sharks, oceanic mantas and occasionally tiger sharks and hammerhead sharks. Guests will either board the boat in Male and end in Addu or board in Addu and end in Male.