The Caribbean Islands area a massive archipelago located in the Caribbean Sea. From white sand beaches in St. Maarten to the cactus topped desert inland of the ABC's (Aruba, Bonaire, Curacao), the wind swept coves and reefs of Dominica in the east to the jungle dressed tips of Cuba and the Antilles in the west, the Caribbean has long been a treasure chest of things to do and see. Combining adventure and relaxation, hundreds of years of colonial history with captivating Arawak culture, West Indian spices with European flair, the Caribbean Islands have something for everyone.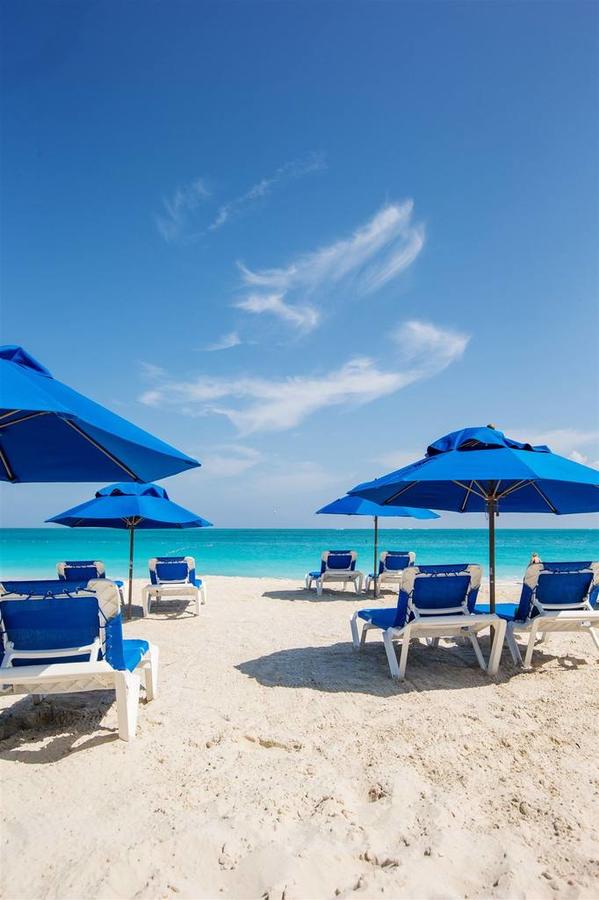 Find Your Version of Paradise!
How do you want to travel?
Bonaire
The flat, tiny island of Bonaire boasts an amazing climate, and it's safely out of the hurricane band. The "rainy season" runs from October to January, but total precipitation is low. The capital of Bonaire, Kralendijk offers the perfect mix of outdoor activities and relaxation. 86 dive sites dot the shores of Bonaire, and all are easily accessible from Kralendijk. The island is also known for offering "diving freedom" because 56 of the dive sites are directly off the shore. You can just pull over, park and start exploring without having to ever board a boat. Divers from all over the globe flock to the destination to explore the underwater world that includes over 370 species of fish and 55 types of coral. There is just as much to do on land as there is in the water. The island is crisscrossed by bike trails, and charging stations for electric bikes are abundant. Other attractions include salt flats, ancient rock art, historic buildings and exquisite beaches. Be on the lookout for flamingos and iguanas, which are found in abundance. For food, don't miss the rock lobster or conch.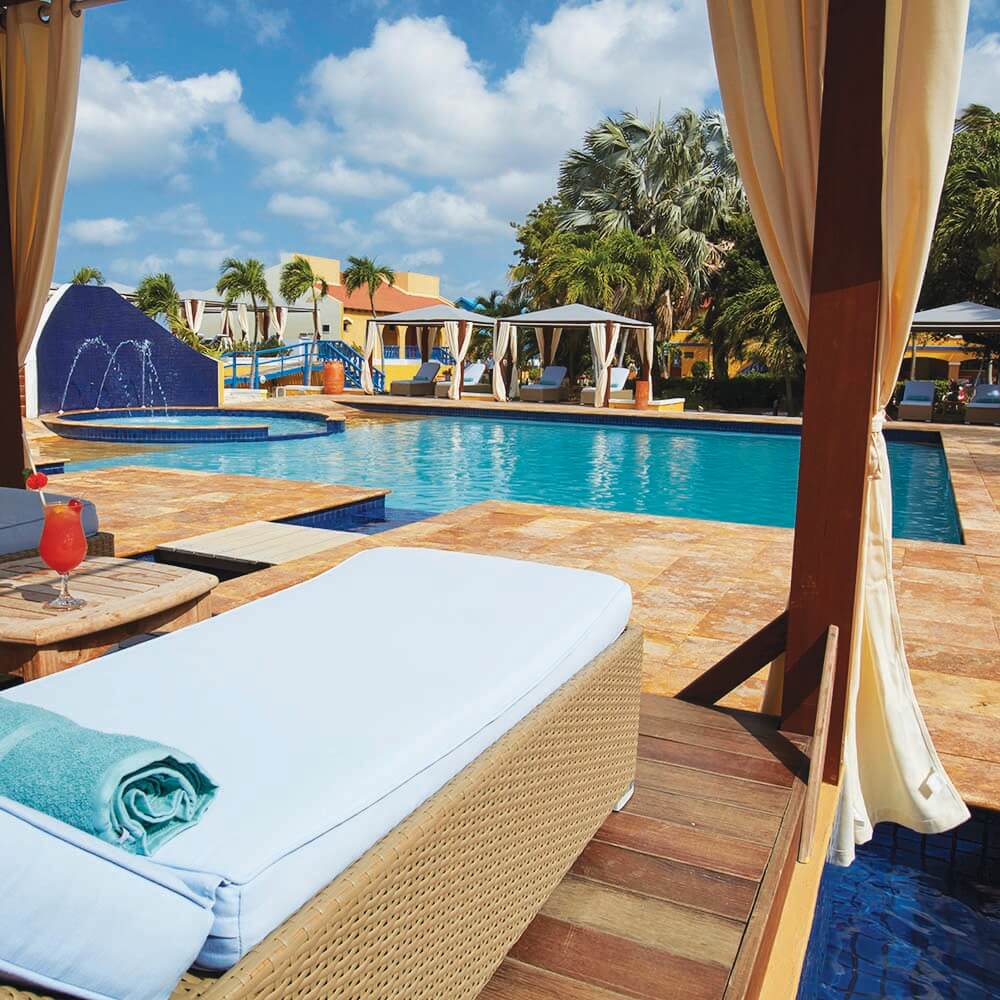 Buddy Dive Resort Bonaire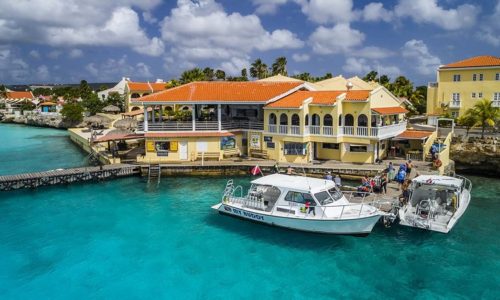 Located on the waterfront north of town, just a couple of steps from the crystal-clear ocean and its many dive sites, Buddy Dive Resort has eleven buildings with spacious studios, one, two and three-bedroom apartments, a complete dive center, two swimming pools, two restaurants, vehicle rental and the famous drive-thru fill station. Whether traveling as a single, couple, with friends and family, or a whole group of dive buddies, you will find the right accommodations for your vacation.
All accommodations have ocean or garden views, and are comfortably furnished with kitchens, spacious living area, cable TV, telephone, patio or balcony and a/c.
At Buddy Dive, their custom dive boats invite you to explore the beautiful marine life during a guided dive or enjoy the convenience of their unique Drive Thru to explore the island's underwater world at your own pace.
Divi Flamingo Beach Resort & Casino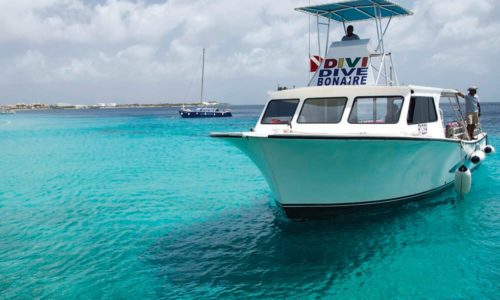 Divi Flamingo Beach Resort allows you to experience the simple pleasure of tropical life. Whether you want to lounge around all day by one of their two freshwater pools, enjoy some delicious Caribbean-flavored meals, relax with a massage in the on-site spa, or scuba dive and snorkel through the beautiful Caribbean ocean, this Bonaire resort offers a truly memorable experience. When you venture outside the resort, the capital town of Kralendijk is only a 5-minute walk away. In this contemporary area, you'll find all sorts of shops and restaurants along the ocean side streets. There's even an outdoor craft market selling typical island souvenirs, though you'll probably spot a few local artists selling something unique.
Divi Dive Bonaire offers you an amazing house reef to explore just a few feet from your room. They also offer morning and afternoon boat dives with its fleet of custom dive boats so you can explore the island's numerous dive sites. Divi Dive Bonaire has a full range of diving certification courses for both beginning and advanced divers.
Harbour Village Bonaire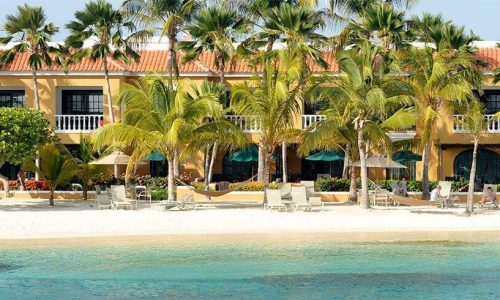 Set on Bonaire's most exclusive beach, you will find the iconic Harbour Village. Beloved by sun lovers, scuba divers, and seafarers, Harbour Village Bonaire captures the breezy, barefoot elegance of the Dutch Caribbean. Enjoy breakfast on your beachfront patio, indulge in massages at the Spa, relax by the cascade pool, laze at the beach in a double hammock and savor a torch lit dinner on the sand. All ingredients in a perfect recipe for seaside romance.
At Harbour Village Beach Club, unforgettable experiences are enjoyed above and below the water. A top dive destination for over 20 years, Bonaire is home to 86 well-defined dive sites. Underwater adventures are just steps away with Great Adventures Bonaire, the on-site PADI five-star Dive Center. Offering concierge diving service, instructional courses for all levels, a retail shop, full range of services and daily boat dives from the Harbour Village dock, it's easy to arrange charter cruises, specialty courses, guided dives and kids dives too!
Sand Dollar Condominiums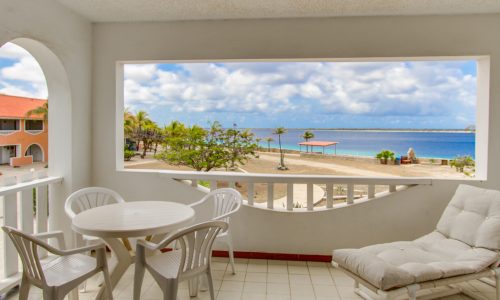 The Sand Dollar Condominiums complex includes seven buildings with a combination of Studio, One, Two and Three Bedroom units. Every condominium has its own private porch or balcony facing the ocean and the nearby island of Klein Bonaire. The open floor plan common areas include a dining area, breakfast bar with bar stools, and living room with a comfortable sofa and chairs for lounging and cable TV. All units have kitchens a full-size refrigerator, stove, dishwasher, microwave, coffee maker and toaster plus complete cookware.
Most guests come to enjoy the Sand Dollar waterfront condominium complex because of the incredible access for diving and snorkeling. With Bonaire setting the standard in reef conservation more than 30 years ago when it instituted one of the first permanent mooring systems and prohibited anchoring of boats, it has attracted divers from all over the world.
Cayman Islands
With gorgeous coral reefs and clear, turquoise waters, the Cayman Islands have long been a popular playground for travelers, particularly popular among divers, with excellent scuba diving and snorkeling sites abound. Its capital is George Town, which is located on Grand Cayman, the largest island. In addition to Grand Cayman, the Cayman Islands consist of Little Cayman and Cayman Brac, which is where you'll find The Bluff. The highest point in the Cayman Islands, The Bluff soars up to 141 feet. That may not sound very tall, but it stands out a lot due to the overwhelmingly flat terrain of the country. Most people who fly into the Cayman Islands arrive at Owens Roberts International Airport in George Town. They then scatter across the three main islands to enjoy a variety of exciting attractions. Seven Mile Beach is not to be missed, and Queen Elizabeth II Botanic Park is another popular spot. If you visit, be sure to check out Boatswain's Beach, which boasts an amazing turtle farm.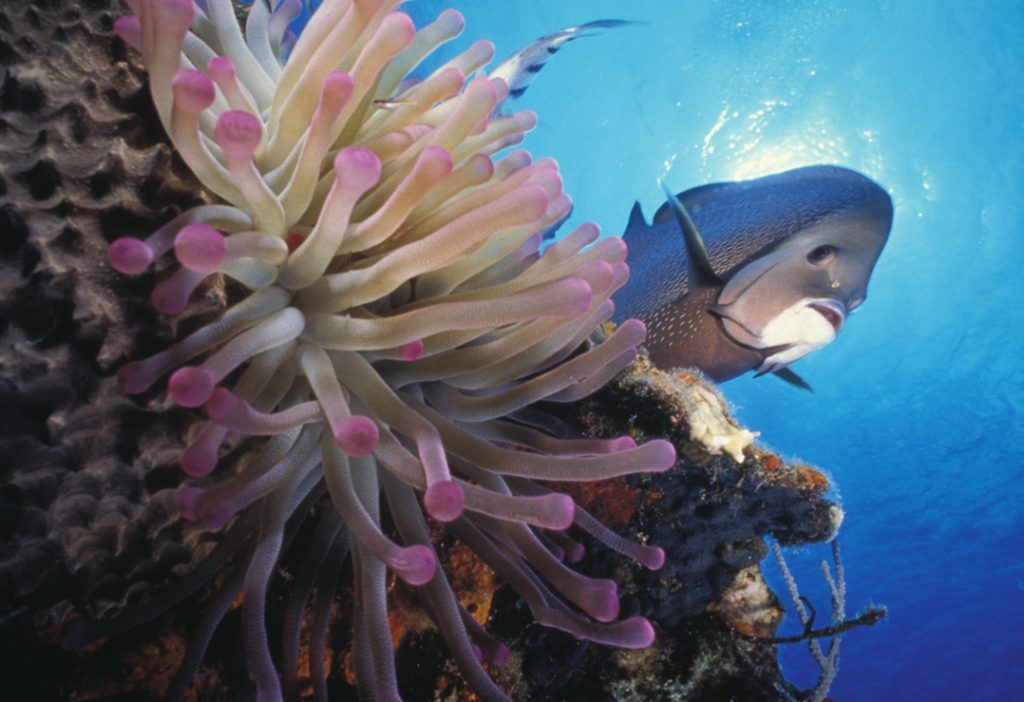 Cayman Brac Beach Resort

Cayman Brac Beach Resort offers the finest accommodations and amenities on four and a half acres of beautiful milky-white beachfront property. Located on a private beach on the southwest end of Cayman Brac, the resort is family-owned and operated, with 40 spacious, and tastefully decorated beach view rooms.
At Cayman Brac Beach Resort you will find yourself immersed in lush tropical foliage, swaying palms, amazing sunsets, starry midnight skies, and crystal blue Caribbean water. Whether you are looking for a place with superb diving, uncluttered beaches, or a place to relax in a tree-shaded hammock, you'll be amazed with all they have to offer.
You can also discover the marvels of the Caribbean Sea with Reef Divers. Cayman Brac is one of the world's best wreck dives and is home to the Russian Missile Frigate #356, renamed the MV Capt. Keith Tibbetts. Turtles, Spotted Eagle Rays, Reef Sharks, Nassau Groupers, Moray Eels, Stingrays, Horse-Eye Jacks, Barracuda, Flying Gurnards and more await you!
Cobalt Coast Dive Resort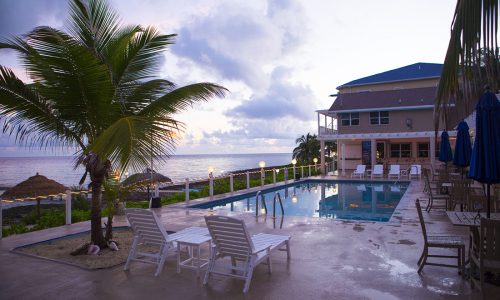 Located on the Northwest shore of Grand Cayman in a secluded, tranquil setting with spectacular views of the inviting Caribbean Sea, Cobalt Coast Resort is conveniently located, with spectacular snorkeling and shore diving accessible just a few steps from your accommodations. Enjoy oceanfront seating at their open-air restaurant that serves American-style hot breakfast, lunch with ocean-side service, and three-course continental-style dinners while you enjoy a relaxing sunset. Reef Divers and their custom fleet of dive boats will take you to explore the island's elite diving sites.
Little Cayman Beach Resort

Little Cayman Beach Resort is situated on a private beach on the south shore of Little Cayman, bordered by the South Hole Sound, a turquoise lagoon protected by the reef. With a total of 40 air-conditioned, spacious rooms situated in two-story 'palm-tree height' buildings and surrounded by lush tropical foliage, you are sure to find the perfect accommodation for your vacation.
Scuba dive or snorkel in the pristine waters around the island. The Cayman Islands have strict Marine Conservation Laws and many of the 57 dive sites are within protected Marine Park Zones, including the legendary Bloody Bay Wall – Little Cayman's most famous dive attraction. The Cayman's' trademark turtles are a common sight and eagle rays, angelfish, reef sharks and grouper count among the 500 species of fish that have been documented here.
Sunset House Grand Cayman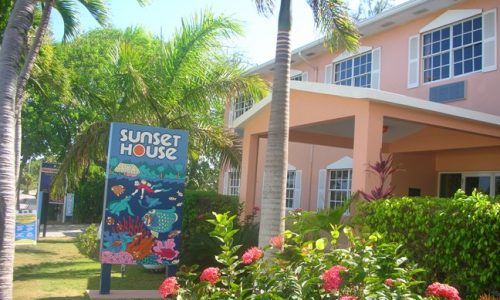 Sunset House offers many amenities for the diving and snorkeling enthusiast. With a variety of 50 mid-bracket rooms, a quiet cruise-ship-free location on a rocky shoreline renowned for its shore diving, and only a 15-minute walk from downtown, the highly-recommended Sunset House is sure to please even the most avid diver. While they do not have a beach, the pool with a waterfall, jacuzzi, and sea pool with direct ladder access to the Caribbean provides all of the water based activities most snorkelers and divers could ask for.
Sunset House is perched in the perfect location for you to explore the underwater world of the Cayman Islands. With 365 dive sites, from deep dramatic walls adorned with sponges and corals to shallow reefs of fish and small invertebrates, and an assortment of famous wrecks. Visibility often exceeds 100 feet revealing some of the world's most diverse aquatic life. Grand Cayman is home to the worlds' best 12-foot dive, the legendary Stingray City and the ex-USS Kittiwake.
Cuba
Cuba is a country of indefinable magic and the unexpected. The colonial cities have changed much over time, the atmosphere and architecture is stunning in Havana and Camaguey where grandiose squares and cobbled streets tell tales of intrigue. Beyond the beaches there are crocodile infested swamps, abandoned coffee plantations and rugged mountains famous for their revolutionary folklore tales and endemic species. For scuba divers the Zapata peninsula contains the largest and most important wetlands in the Caribbean. Covering 1.5 million acres, the immense Zapata Biosphere Reserve includes marshes, mangroves, coral reefs and forests that includes crocodiles, birds, shellfish, turtles, and countless plants that make conservation in this region a top priority. The protected wetlands attracts thousands of migrating birds that use this area as a stopover when migrating between North and South America.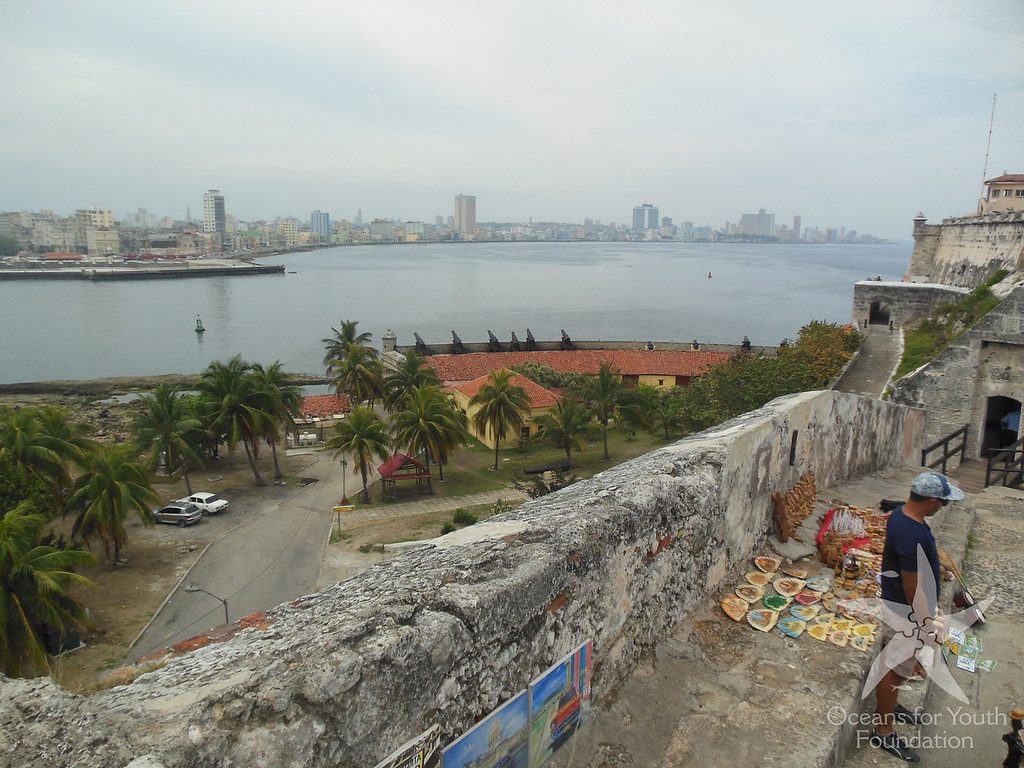 Curaçao
The elusive 'C' of the ABC's makes its home between the cacti-spotted reaches of Aruba and the shimmering reefs of Bonaire.
There, just a stone's throw from the Venezuelan coast, it rises from the cobalt waters to display multi-colored Dutch mansions in Willemstad (a UNESCO World Heritage Site) besides boulders and cliffs and swimming sea turtles at the Shete Boka National Park, boat-bobbing harbors at Fort Amsterdam, floating markets and cactus-topped hills for walking.
Given the diversity, it's hardly surprising that Curaçao draws a really broad range of travelers.
Some come to kick-back in luxury resorts while others will dive into awesome Playa Kalki, explore the hanging stalactites of the Hato Caves, or case out the colonial history at spots like the Maritime Museum and Postal Museum in the capital.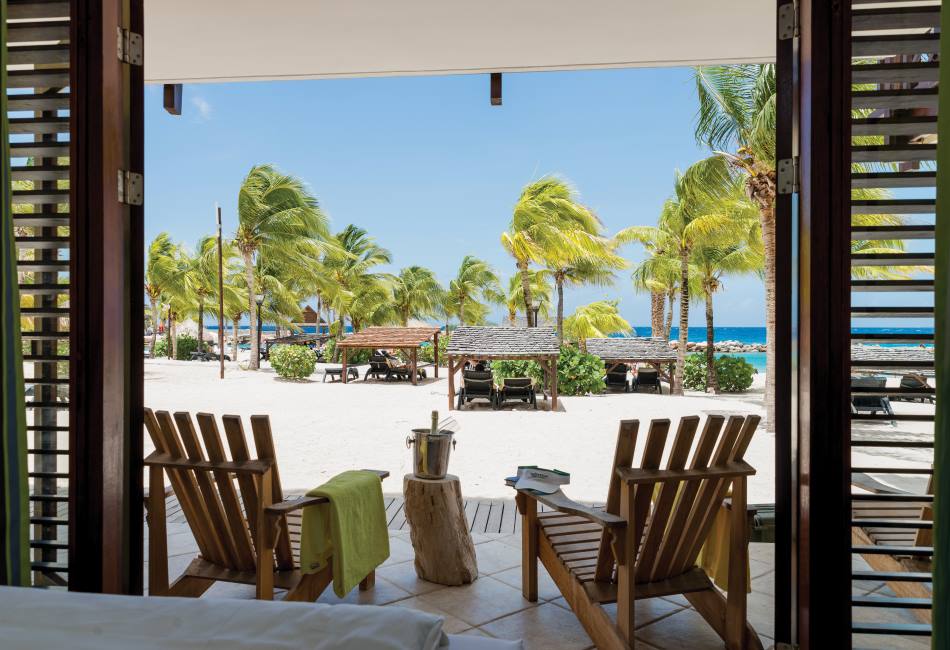 Lions Dive & Beach Resort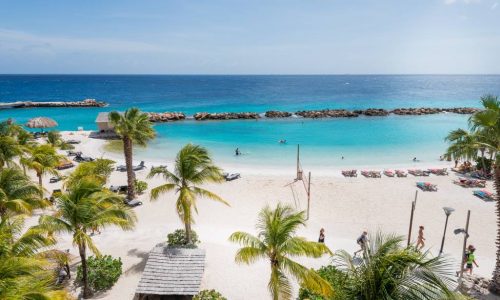 Lions Dive Beach Resort is the coziest and sportiest hotel on sunny Curaçao, the perfect starting point for a wonderful holiday! The resort offers a range of rooms including standard hotel rooms, some with a sea view, 2-bedroom apartments, luxurious suites with breathtaking views over the Caribbean Sea, and a penthouse!
Lions Dive Beach Resort is built in a typical Dutch Caribbean style. The 2 and 3 story buildings are surrounded by a beautiful tropical garden and the resort is on the beach! You can reach the beach quickly and easily from any accommodation.
Diving and snorkeling are a must! The dive boats go out daily for 1 and 2 tank dives to different sites around the area like Smokey's, Barracuda Point and Kathy's Paradise. You can book a special trip to Klein Curaçao and the beautiful reef at Oostpunt. The famous dive site Mushroom Forest is also part of the weekly program.
After your dive you can relax on the shady private beach, swim in their 50-meter sports pool or stroll along the adjacent Mambo Beach Boulevard.
Dominica
Dominica is naturally unique, a rich tapestry of lush rainforests, rivers and waterfalls, with volcanic wonders on land and under the sea. The underwater topography of Dominica mirrors the beautiful landscape above, with canyons and cliffs plunging to depths equal to the soaring mountain peaks above. Massive underwater boulder fields and volcanic craters accompany steep walls and pinnacles, setting the stage for some of the best diving in the Caribbean. On land every trail across the island leads you to discover nature's pristine environment with a touch of adventure. Through gorges and valleys. Into dense mountain rainforest. From rushing streams and rivers to natural springs and bubbling mud baths, to a myriad of cascading waterfalls, and a vast array of flora and fauna. Dominica is home to the Caribbean's first long distance trail, the Waitukubuli National Trail, which passes through the Carib (Kalinago) Territory (home to indigenous peoples and the UNESCO World Heritage Site), and the Morne Trois Pitons National Park that encompasses the world's second largest Boiling Lake. When you discover Dominica, you discover yourself – and a Caribbean experience like no other.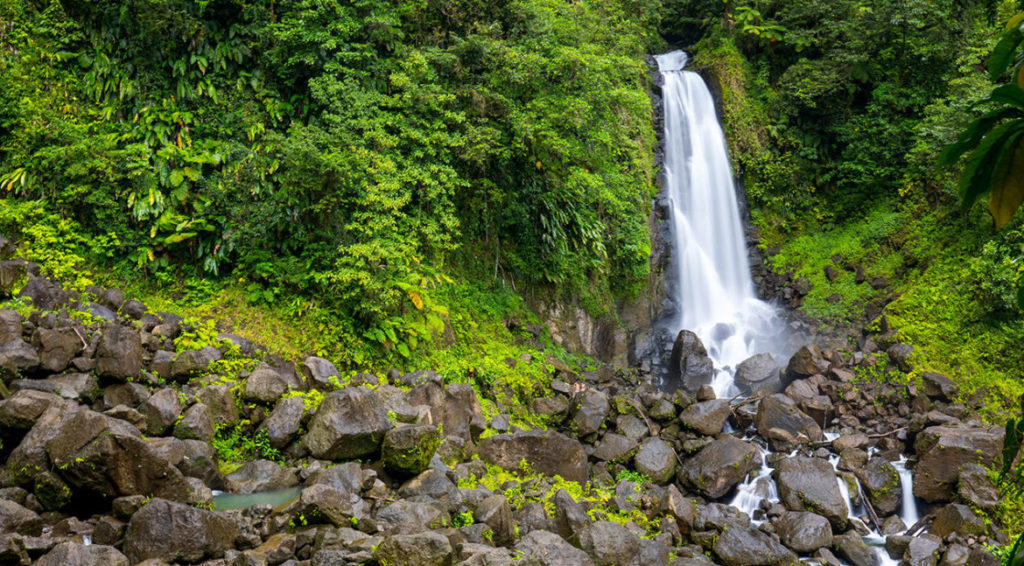 Fort Young Hotel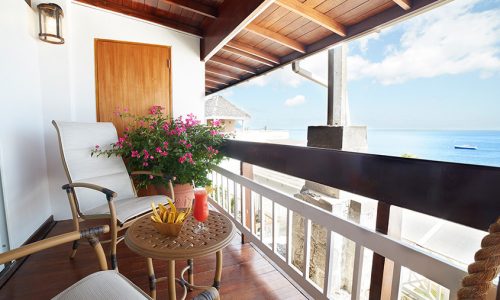 Set along a serene coastline of the Caribbean Sea amidst Dominica's vibrant capital city, Roseau, stands Fort Young Hotel, a proud staple of the island's heritage. With a variety of rooms to choose from – Fort Rooms & Ocean View Fort Rooms, housed in the original fort building, Deluxe Oceanfront & Oceanfront rooms, perfect for families, and the Oceanfront Suite with a gorgeous Caribbean Sea View and a private balcony, Fort Young Hotel has ideal exposure to Dominica's vibrant culture, delicious cuisine and marina activity. Dominica is one of the most coveted destinations worldwide for diving; and, Fort Young Hotel just so happens to sit moments away from the island's wide array of sites. Their dive concierge customizes experiences for guests, including the coordination of diving locations, equipment, whale watching excursions and transportation to and from the desired diving sites including the Soufriere/Scotts Head Marine Reserve.
Saba/St. Kitts
The Northeastern Caribbean is an intriguing area offering a blend of Dutch, British, French and native cultures on some of the most scenic islands of the Caribbean.
Saba, known for its submerged offshore pinnacles, is the 5 square mile top of a dormant volcano towering 3,000 feet above the surface and surrounded by volcanic sand. The abrupt topography above the sea is mirrored below, and the profusion of marine life attests to the early institution of the Saba Marine Park in 1987.
St. Kitts offers arguably the widest variety of sites including finger reefs, recent wrecks, and a variety of drop-offs that will capture your imagination.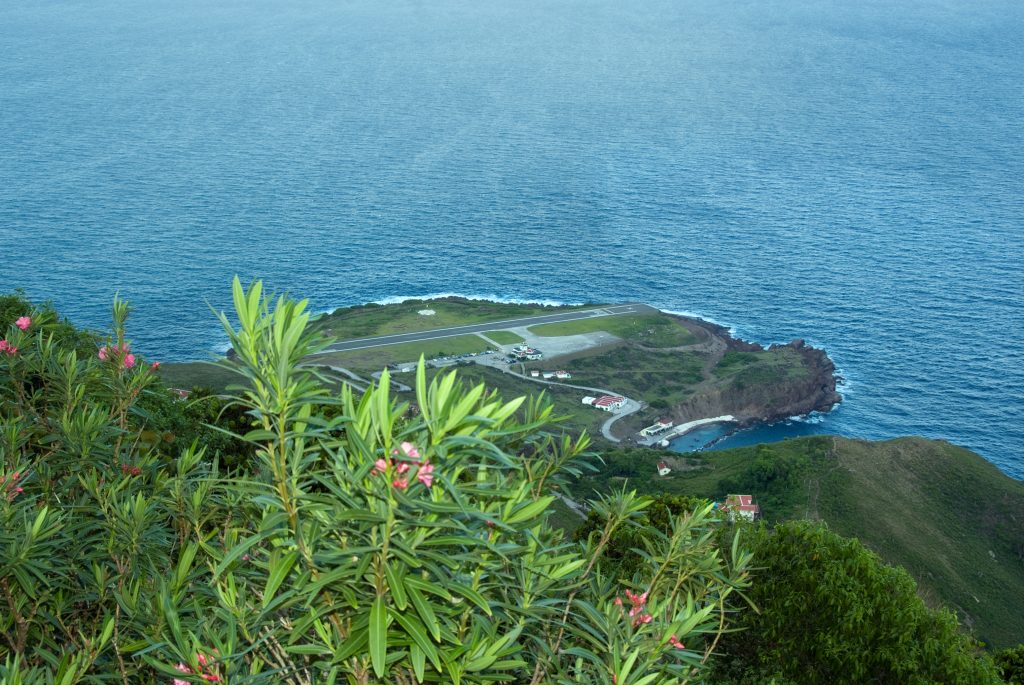 Turks & Caicos
Located 575 miles southeast of Miami, the idyllic islands of the Turks & Caicos sit surrounded by turquoise waters containing over 1,000 square miles of living coral reef. A Mecca for divers from all over the world, the Turks & Caicos Islands are known for their expansive underwater visibility, high-voltage wall dives, and the profusion of marine life of all sizes located within their boundaries. Low annual rainfall and reliable ocean currents contribute to the remarkable visibility, as well as provide nutrients for the many large pelagics common in these waters, like Caribbean reef sharks, spotted eagle rays, jacks, grouper, and turtles. Also spotted on a frequent basis are blacktips, tiger sharks, hammerheads, and manta rays. Famous for its spectacular walls filled with huge gorgonian fans, barrell sponges, hard-coral arches and macro life, the Turks & Caicos Islands truly offer a dive experience for everyone.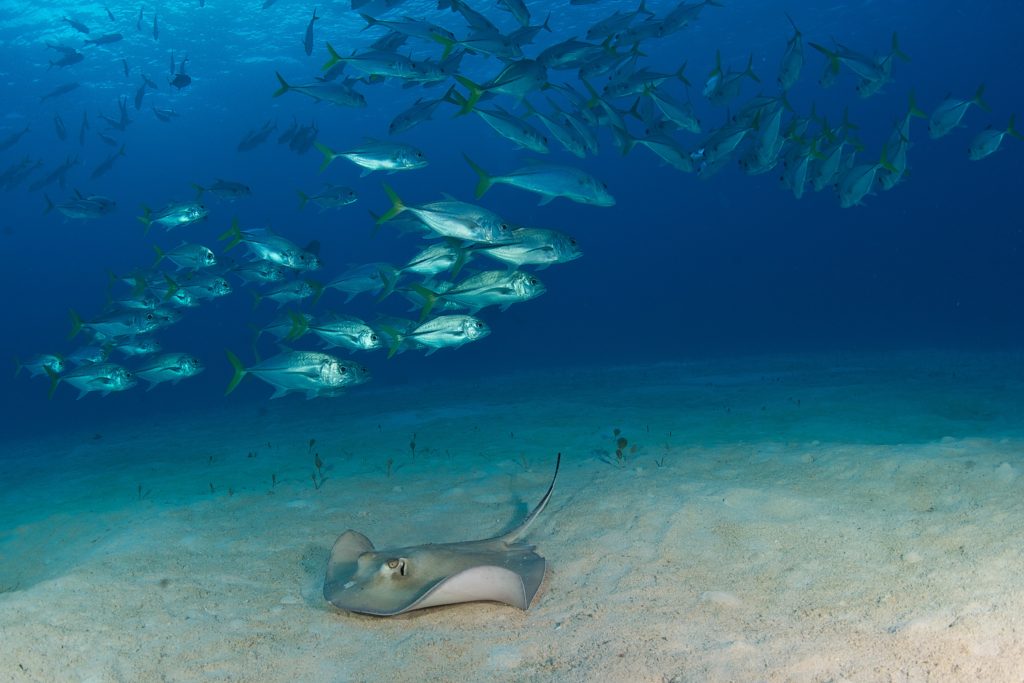 Ports of Call Resort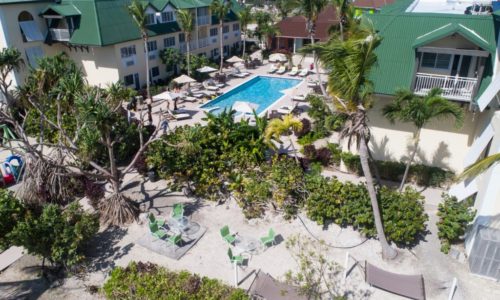 The Ports of Call Resort is located within the beautiful Grace Bay area on Providenciales, an island of the Turks and Caicos, and is only a short 15-minute drive from the Providenciales airport (PLS). The property comprises of a central building featuring a welcoming reception, business center, breakfast room, fitness room, and poolside bar. Ports of Call Resort has 98 fully renovated deluxe junior suites with pool view (some with balcony or terrace) and others with garden views. Rooms are located in two three-story buildings (no elevator) surrounding a tropical pool area that creates an intimate boutique setting.
The resort has a designated beach access to the awe-inspiring Grace Bay Beach complete with lounges, umbrellas, stand up paddleboards and kayaks, and is only 300 yards from the property. A shuttle runs each hour and beach towels are provided.
The property also includes the Shops of Ports of Call. The plaza offers a variety of restaurants, bars, gift and clothing shops, as well as a spa, hair salon, ice cream parlor, dive shop, conference space, fishing charter, and auto/scooter rentals.
Sibonné Beach Hotel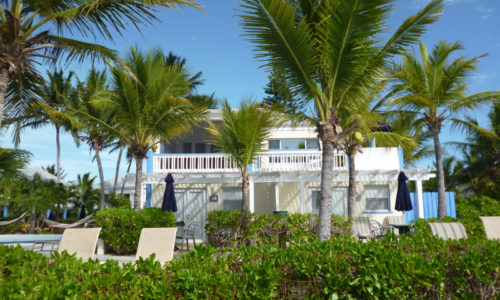 A charming, traditional Caribbean Inn, Sibonné Beach Hotel was the first hotel built on Grace Bay Beach. With only 30 rooms, Sibonné offers comfortable accommodations. As soon as you step onto your balcony, dine in their oceanfront restaurant Bay Bistro, walk onto the powdery white sand, or swim in the amazingly clear turquoise water of Grace Bay Beach – you'll understand why Sibonné Beach Hotel is special. Scuba diving packages are available while staying at Sibonné, there are several dive shops to choose from;  Dive Provo, Ocean Vibes Dive Shop, Provo Turtle Divers to name a few.
Cayman Aggressor IV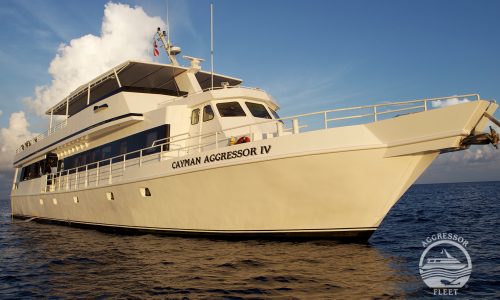 The Cayman Aggressor IV is a 110-foot yacht, diesel-powered, cruises at 10 knots and has 110-volt power onboard. The Cayman Aggressor IV sleeps 18 guests in six deluxe staterooms, each having a double and single berth, two single-share staterooms each with two single berths that share a bathroom/head between the two staterooms and one master stateroom with one full bed. All staterooms are air-conditioned with private toilets, showers and sinks. The yacht features a roomy, air-conditioned salon and dining area, sun deck complete with a hot tub, lounge and deck chairs, stereo and CD player, shaded wet bar and grill, a complete photo center with a digital video and still photo editing computer. Breakfast is cooked to order, lunch is served buffet style and dinner is served as an elegant meal with table-side service. There is also fresh mid-morning and mid-afternoon snacks served onboard. Beverages, alcoholic and non-alcoholic, are also complimentary.
Some dive sites you will visit are the Russian Destroyer in Cayman Brac, Bloody Bay Wall in Little Cayman, and Stingray City, Northwall, Southwall, Kittiwake and Doc Polson wrecks. You can expect to see sharks, turtles, stingrays, eagle rays, wrecks, lobster, walls and reefs with an abundant amount of marine life while diving.
Caribbean Explorer II

The Caribbean Explorer II comfortably accommodates 18 passengers in 9 double staterooms, all of which have private bathroom facilities and most of which have queen-sized beds. The semi-enclosed, air-conditioned salon on the upper deck includes dining tables, TV, CD/DVD, video library, light table and lounge area; a large sundeck with lounge chairs is aft of the main salon. The large dive deck is equipped with a bathroom, individual gear lockers, camera table with low pressure air hose, recharging station, air and nitrox filling stations, tank racks, and a separate fresh water rinse for both scuba and underwater camera equipment. There are two sets of stairs accessing the dive platform, where two in-water ladders hang for easy access to and from the water. The vessel is also equipped with a satellite telephone for incoming and outgoing calls worldwide. All diving is done directly off of the vessel.
Jardines Aggressor I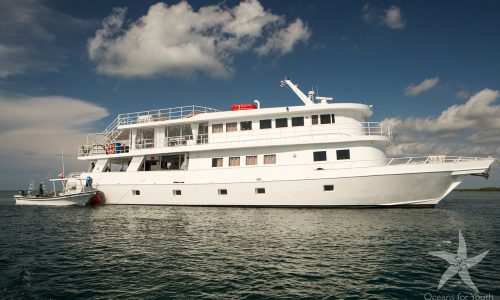 Zapata, Bay of Pigs, was declared a UNESCO World Heritage Site in 2003. The Zapata peninsula contains the largest and most important wetlands in the Caribbean. During the 7-night Oceans for Youth Foundation People-to-People group educational program on-board the Jardines Aggressor I, divers will spend a week learning about this magnificent biosphere reserve. As part of the People to People Group Travel Program, Cuban specialists will host discussions and presentations on the marine environment, conservation, and the importance of this magnificent ecosystem.
Jardines Aggressor II

Cuba's Jardines de la Reina or 'Gardens of the Queen' was named by Christopher Columbus to honor Queen Isabella of Spain. It is located 60 miles off the southeastern coast of Cuba and is the largest marine reserve in the Caribbean. In 1996, the area was declared a National Park and has been protected and managed for conservation ever since. The Gardens of the Queen National Park encompases a chain of 250 pristine coral and mangrove islands extending along 75 miles of clear, turquoise water. It is also widely recognized to represent one of the healthiest marine ecosystems in the Caribbean.
Divers on-board the Jardines Aggressor II will see pristine coral reefs, steep walls dropping from the reef crest into the deep, large populations of fish including Goliath grouper weighing up to 400 lbs, large schools of multiple snapper species, large rainbow and midnight parrotfishes, eagle rays, sea turtles and much more. Additionally, several species of sharks are commonly seen including silky, caribbean reef, blacktip, lemon, hammerhead, and nurse sharks, plus the occasional whale shark.
Turks & Caicos Aggressor II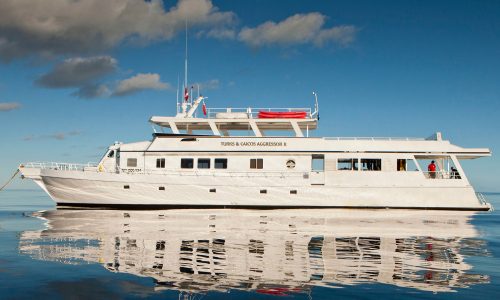 The Turks & Caicos Aggressor II departs from Providenciales. Throughout the week guests will visit Providenciales, West Caicos and French Cay. The itinerary April through December departs from Providenciales, Turks & Caicos Islands and is completely dependent on the winds and weather. With all dives from the mothership, unlimited diving is offered.
All staterooms onboard the Turks & Caicos Aggressor II are air-conditioned with private toilets, showers and sinks. Breakfast is cooked to order, lunch is served buffet style and dinner is served as an elegant meal with table-side service. Fresh mid-morning and mid-afternoon snacks are served as well. Beverages, alcoholic and non-alcoholic, are complimentary while onboard.
Turks & Caicos Explorer II

The Turks & Caicos Explorer II carries up to 20 passengers. All staterooms throughout the vessel have port lights or windows, individually-controlled air-conditioning, and private ensuite bathrooms. A comfortable full-width salon, located forward of the spacious dive deck, provides seating for all guests at once, a wet bar, and an entertainment area with DVD and CD stereo. The boat deck, one level up, has ample room for sunning and relaxing; the fly-bridge includes a wet bar, and comfortable seating for up to 15. The two VIP staterooms located on the upper boat deck, as well as the two forward staterooms on the main deck, are equipped with TV/VCR.