Postcard-pretty colonial centers, Kichwa villages, Amazonian rainforest and the breathtaking heights of the Andes – a dazzling array of wonders is squeezed into this compact country. The historic centers of Quito and Cuenca are lined with photogenic plazas, 17th-century churches and monasteries, and beautifully restored mansions. Wandering the cobblestone streets amid architectural treasures from Spanish colonial days is a fine way to delve into the past. Beyond the cities, the Ecuadorian landscape unfolds in all its startling variety.
Your Galapagos Liveaboard diving adventures in will encompass everything from sharks to nudibranchs, and more. The islands are best known for amazing shark diving around Wolf and Darwin Islands. These small and remote islands are best reached by liveaboard vessels for divers. Your diving experience here will generally include Galapagos sharks, silky sharks and lots of schooling hammerheads being cleaned by king angelfish. Seeing marine turtles, schools of tuna, eagle rays, and sea lions is very common and seeing a whale shark is very possible from June through November. All the islands you travel to are amazing sites for underwater photography.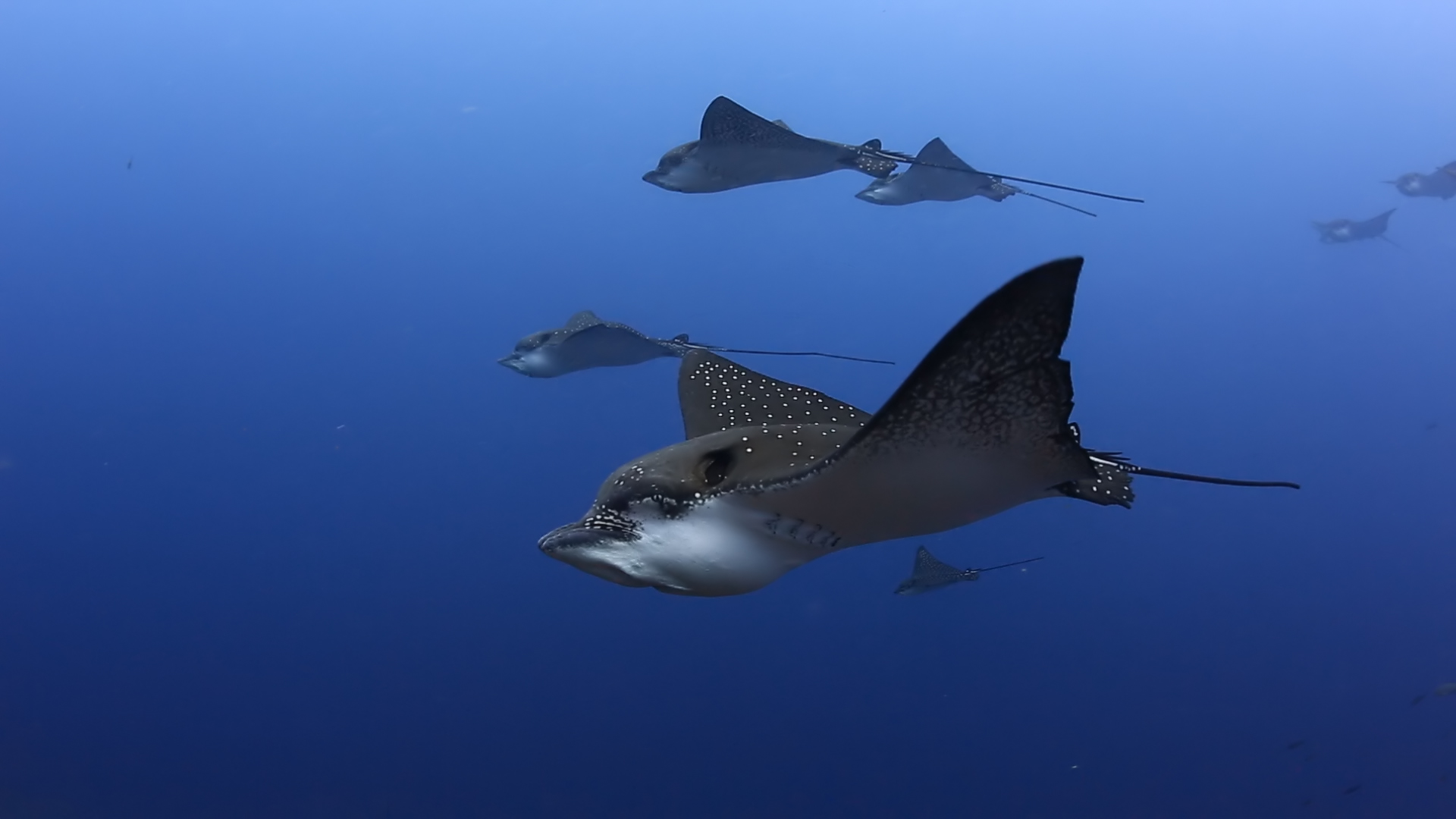 Explore Ecuador and the Galapagos!
How do you want to travel?
Galapagos Habitat

This iconic Galapagos hotel is situated on the Waterfront surrounded by both Galapagos wildlife and Mangroves that give a delightful sense of seclusion in the town of Puerto Ayora.  Most noteworthy are the oceanfront views of Academy Bay and the naturally surrounding mangroves. As a result, the mangroves give off the sensation of exclusion from the rest of the island.  Guests can choose between 17 different rooms with an Ocean View or an exclusive look at the Mangrove Ecosystem.
Humbolt Explorer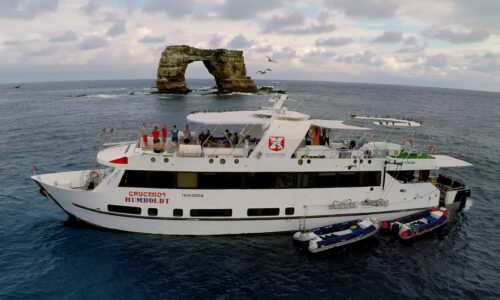 Diving the Galapagos Islands onboard Humboldt Explorer will allow you to experience an unknown world of beauty, wonder and marine life. You will see sea lions, turtles, hammerhead sharks, white tip sharks, dolphins, whale sharks, manta rays, Galapagos sharks, and huge schools of eagle and golden Rays.
The 16-passenger Humboldt Explorer provides 8 air-conditioned rooms located on the main and lower decks; each has a private bathroom, flat screen television and ocean view. All rooms except rooms 3 & 4 can be converted to either one queen bed or two twin beds. The yacht features partially covered sun deck with a jacuzzi and ample seating, salon area with dining, bar and entertainment area. The large dive deck includes a bathroom, large camera table with charging station, individual storage areas, rinse bins for cameras and another for gear. Diving operations are conducted from two large pangas (tenders), easily boarded from the dive deck.
M/V Tiburon Explorer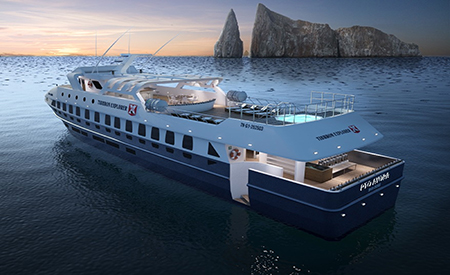 Debuting in April 2020, the M/V Tiburon Explorer will accommodate 16 passengers in 9 air-conditioned staterooms rooms located on the main and lower decks; all of which have private bathrooms and ocean views. Guests can enjoy the air-conditioned salon on the main deck, furnished with dining tables and TV/lounge area. Sunning and viewing areas on the top deck offer ample seating and a hot tub. The dive deck is expansive and outfitted with individual gear bins, air, and nitrox filling stations, tank racks, and a separate fresh water rinse tank for underwater camera equipment. Photographers and videographers will also be delighted with the dedicated camera table and recharging stations.
M/V Galapagos Aggressor III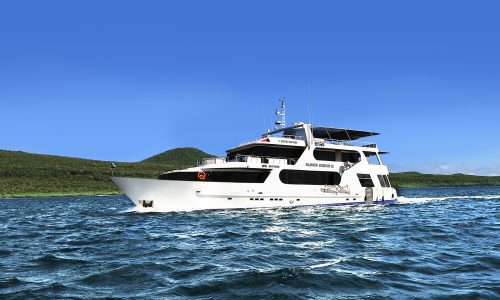 The M/V Galapagos Aggressor III is a 32-meter luxury liveaboard yacht which can accommodate 16 guests on 7 & 10-night itineraries. Scuba diving with the Galapagos Aggressor III offers four action packed dives each day along with two spectacular night dives. Diving amenities include a large swim platform with personal gear lockers, air/nitrox fill stations, rinse tanks, three-tier camera table with low-pressure air hoses and 2 warm freshwater showers.
Guests can also enjoy the large partially covered sun deck with chaise lounges and deck chairs, hot tub, bar service and CD/stereo player. The onboard menu features a variety of American fare and local cuisine. Soft drinks, iced tea, beer, and wine are complimentary.
MV Galapagos Sky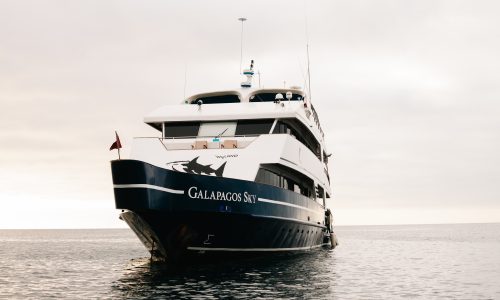 Enjoy world class diving aboard the 33-meter luxury liveaboard, M/V Galapagos Sky. This elegant vessel offers 8 luxury cabins for 16 guests featuring private ensuite bathrooms, wardrobe, bathrobes and hair-dryers. The lavish lounge and dining area onboard M/V Galapagos Sky are fully air conditioned with stylish, comfortable seating. The main salon is equipped with a large television and full entertainment system, perfect for viewing photos and video of the day's exciting dive adventures.
Scuba divers will enjoy up to four thrilling dives each day. The Galapagos Sky was designed for diver comfort and features dive platforms, fresh water showers, equipment and camera rentals, gear storage, Nitrox, two dive masters and fresh warm towels after every dive. Galapagos Sky takes scuba divers to the best dive sites including Wolf and Darwin Islands where Galapagos sharks, hammerheads, turtles, schools of tuna, manta rays, whale sharks and white tip sharks can be found.