Ever since diving legend Jacques Cousteau raved about Sipadan's diversity of marine life, this diving mecca has become the number one "must dive" destination in Malaysia. It is located off the east coast of Sabah, Malaysia's eastern most state and lies on the north-eastern corner of Borneo, the world's third largest island.
Sipadan is well known for its unusually large numbers of green and hawksbill turtles which gather there to mate and nest and it is not unusual for a diver to see more than 20 turtles on each dive. Barracuda Point is where a diver may experience the thrill of swimming amidst schooling barracuda and big-eye trevally, which gather in thousands forming spectacular tornado-like formations. With the possibility of seeing pelagic such as mantas, eagle rays and hammerhead sharks, each dive at Sipadan is a highly anticipated event.
The macro life is equally mesmerizing; garden eels, leaf scorpion fish, mantis shrimps, fire gobies and various pipefish are guaranteed at various dive sites. Sipadan also boasts a rich variety of corals; both soft and hard, among these Dendronephyta in delicate pastel colors and feather stars of all shades and hues. The most popular dive spot to view these is the Coral Gardens.
The diversity of the abundance of marine life found at Sipadan gives it the reputation of being one of the best dive locations in the world. For environmental reasons Sipadan Island has now closed its resorts. This means the best way to dive here is by staying in on one of the resorts on the nearby islands of Mabul or Kapalai, both 15 minutes by boat.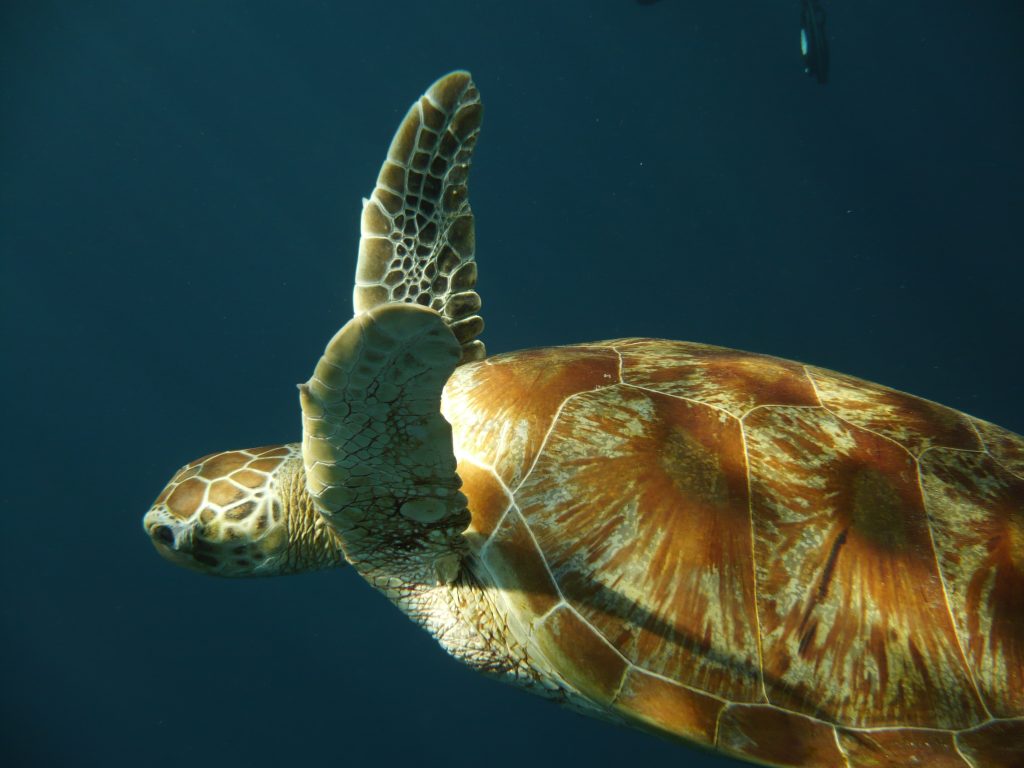 For the perfect holiday full of surprises, the time is now, the place is Malaysia!
Dive Resorts
Adventure Resorts
Lankayan Island Resort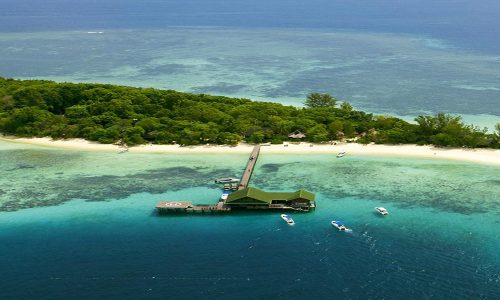 A jewel like tiny island in the Sulu Sea, an hour and a half boat ride north of Sandakan; Lankayan has been declared part of an immense Marine Protected Area to adopt the eco-tourism concept. Unpopulated and covered by thick tropical island vegetation on its topside, this peaceful, untouched little bit of paradise is ringed by an endless pure of white sandy beach, offering simply elegant and exquisite accommodation in 16 wooden seafront chalets. Lankayan Island is a true Macro paradise.
Sipadan Mabul Resort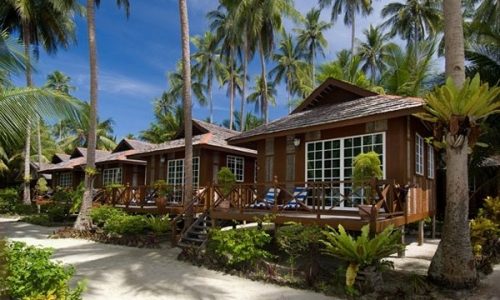 Located on the beach, Sipadan Mabul Resort is nestled in a coconut grove on the south-east side of the island overlooking the water and near-by Sipadan Island. It consists of 45 wooden duplex chalets. Each room has two oversized single beds, a couch, ceiling fan, air-conditioning, hot and cold fresh water and a front verandah. The resort combines the magic of diving Sipadan along with the amazing Mabul macro-life. Other diving trips include the islands of Si Amil, Mataking or Ligitan Island.
There is unlimited unguided shore dives at the House Reef right in front of the resort where you will see many species such as Mandarin Fish, Frogfish, Pipefish, Gobies, Shrimp, Crab, and Lobster.
Mabul Waterbungalows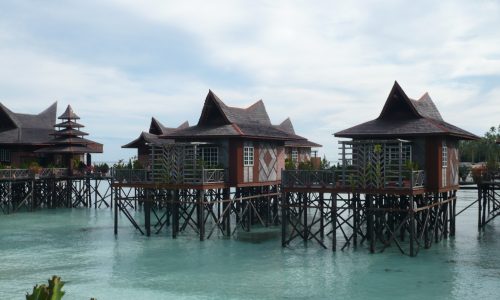 With 14 wooden-type bungalows built entirely over water, each bungalow is exquisitely furnished with contemporary decor, equipped with remote control air-conditioner, ceiling fan, private bathroom-hot/cold shower and toilet. Spacious private balconies offer panoramic views of the sea. Facilities includes a large and airy restaurant for dining, a souvenirs shop selling variety of t-shirts, accessories and gifts, a business center with internet service and a full service dive center.
Sipadan Water Village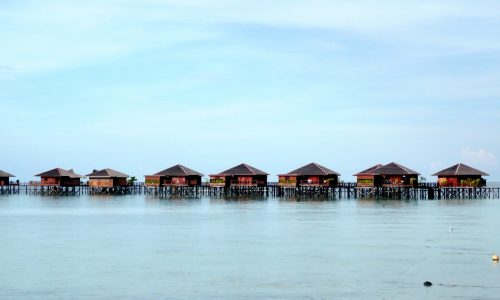 With 45 cottages, the resort is dubbed a "Water Village" because it is built entirely on pilings, connected to the shore by a long pier. Sipadan Water Village offers you the excitement of superb diving along with comfort and relaxation. The village, fringed by beautiful corals, pearl white sands and amazing marine beauty, is the epitome of class and luxury.
Sipadan-Kapalai DiveResort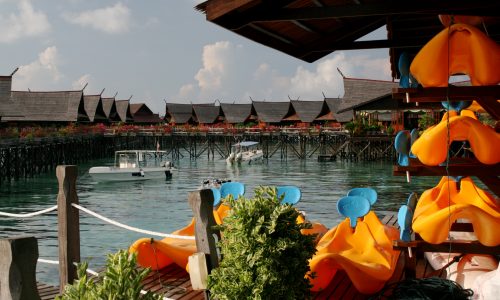 Sitting on its sturdy stilts on the shallow sandbanks of the Ligitan Reefs. Planned and built in full style as an airy, comfortable, sunny water village with no land in sight, it boasts a mile-long sandbank of powdery white sand where one can suntan at complete leisure while gazing out to the miles of brilliant turquoise stretching into the horizon. Kapalai's chain of 40 chalets are all linked by miles of wooden walkways for those who like to take their morning jog while looking at thousands of fish swimming just a few feet beneath.
Sepilok Nature Resort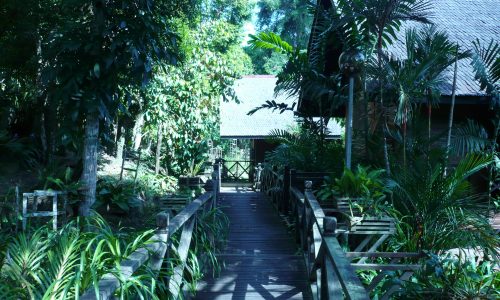 Hidden amongst a veritable treasure trove of tropical plants and grasses, hug trees and spectacular orchids in bloom, the quaint bungalows of the Sepilok Nature Resort are within walking distance of the world-famous Kabili-Sepilok Forest Reserve, precious home of the last wild Orang-Utans of Northern Borneo. Combining rich traditional style with contemporary luxury, Sepilok Nature Resort is the ideal starting point for most other wildlife land destinations in Sabah such as the fauna rich Kinabatangan River and the surrounding Sukau area.
Sukau Rainforest Lodge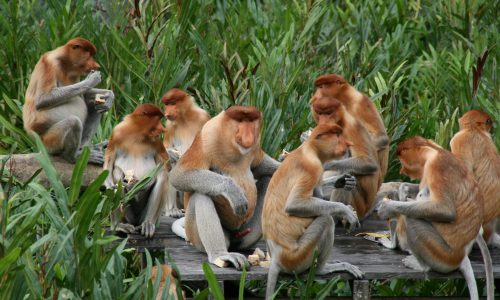 Built in 1995, The Sukau Rainforest Lodge sits on the bank of the Kinabatangan River in Borneo. It was the first lodge in the area designed based on ecotourism principles. The lodge provides a great wildlife experience to tourists while preserving the Kinabatangan flood-plain. Sukau Rainforest Lodge embraces conservation, community development and sustainable tourism as part of its green policies.