Palau is one of the most extraordinary diving spots on this planet. Far to the southwest of Micronesia, Palau consists of an archipelago of 343 islands. Its teeming, untouched reefs offer a wealth of marine life, coral formations and wrecks. Dives begin in knee deep water and plunge straight down to depths of 1000 feet and more. Blue holes, huge caverns and an immense variety of rare and exotic marine species are easily accessible in the pristine water with visibility exceeding 200 feet. Palau's famed "Rock Islands" are a collection of rounded, densely forested isles which seem to float above the surface of the water. A boat trip through them will reveal a number of magnificent secluded white sand beaches, perfect for a private picnic or adventurous overnight stay.
When the underwater wonders have finished working their magic on you, there are other adventure options. Kayaking, snorkeling, and off-road driving are fabulous, with the added appeal of fantastic settings. And for history buffs there are plenty of WWII relics scattered in the jungle, as well as a handful of well-organized museums in Koror, Palau's largest town. Come explore this magical pristine paradise.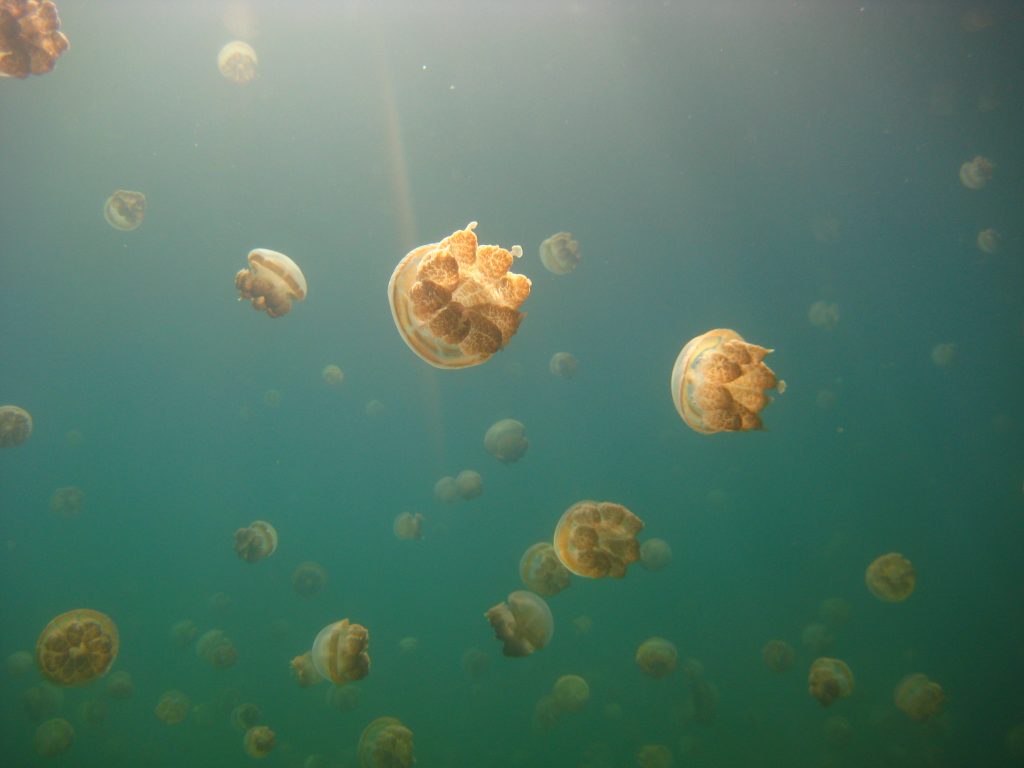 How do you want to travel?
Cliffside Hotel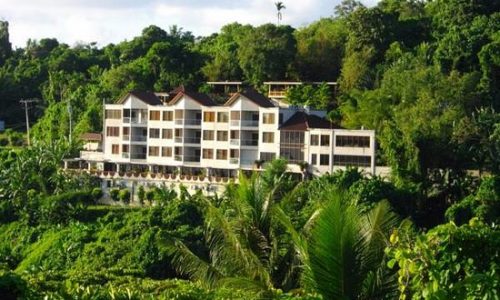 When you stay at Cliffside Hotel, you will experience the family-owned and operated hospitality that extends the true welcome spirit in Palau. Situated on a quiet hillside overlooking Koror and its lagoon, Cliffside Hotel is Palau's best kept secret. There is a comfortable cocktail lounge, a full-service restaurant both indoors and outdoors, and a pool with poolbar/jacuzzi for you to enjoy. It is only five minutes away from downtown Koror, and all stores and dive shops.
Palau Pacific Resort

Nestled among 64 acres of lush tropical gardens, this luxury international resort hotel is surrounded by the pristine and crystal blue waters of the western Pacific. It combines the true spirit and culture of the islands with a tranquil ambiance and beauty and is considered a first-rate resort destination for both scuba-divers and non-divers alike.
With 165 rooms decorated in an island motif setting this resort offers an array of leisure activities and resort facilities right on the property making it convenient for guests. Awarded "Best Diving Resort" by Dive & Travel Awards for 14-consecutive years.
Palau Royal Resort

Palau Royal Resort boasts 157 spacious rooms with gorgeous views of the quiet ocean or a relaxing harbor scene over the balcony of each room. There is a fantastic dining restaurant and bar surrounded by green gardens, the sea and the private beach in the resort facility  will ensure your journey unforgettable.
Cove Resort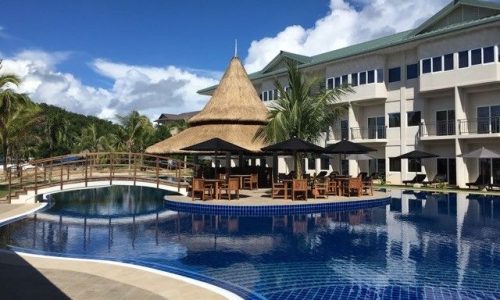 The Cove Resort offers 71 rooms, one of the largest swimming pools in Palau and is easily accessible to the Marina. It is a great hotel for honeymooners and scuba divers. Enjoy in-room dining with spectacular views of the ocean and the Rock Islands beyond.
Palau Carolines Resort

Known as the small resort on top of the hill, Carolines offers 8 private bungalows situated on a secluded hilltop overlooking the beautiful Pacific Ocean. Each bungalow has a balcony with view of the Rock Islands, King or twin beds, A/C, mini bar, safe, TV, internet. Palau Carolines Resort is recycling over 95% of all the trash accumulated in the resort at the Palau Recycling Centrum.
Dolphin Bay Resort & Peleliu Divers
Located about 23 miles south of Koror island, Peleliu Island is a reef and home to Dolphin Bay Resort. With 7 ocean-view bungalows, a restaurant & bar "Jal Luver's Sunset Bar & Grill," a fully equipped dive shop- "Peleliu Divers," personalized tours, along with bicycle and kayak rentals, and the Dolphin Bay Gift Shop -- the best place for Peleliu Souvenirs. Dolphin Bay Resort was designed using traditional island architecture to create the finest eco-tourism destination in Palau.
Fish 'N Fins

Fish 'N Fins is the pioneer dive center in Palau. Their daily scuba diving tour include seeing sharks at Blue Corner, manta rays at the German Channel, Ulong Channel, Peleliu and more. You can also go snorkeling, go on a Rock Island tour, take PADI dive courses, visit Jellyfish Lake, go kayaking, stand up paddle boarding, or even fishing.
There is more to Palau than just diving! If you've got a day to fill before flying home, or just fancy a day out of the water, they can offer guided kayak excursions through the stunning Rock Islands, land tours to the sights and history of the 'Big Island', or fishing trips to catch the denizens of the deep.
They also offer extreme adventures with off road jungle tours, helicopter tours, and skydiving over the Rock Islands!
Palau Dive Adventures

Palau Dive Adventures offers small, flexible organized dive adventures, letting you can choose the dive spots you want to see and explore. Get jaw-dropping close to manta rays, sharks, turtles, eels, and whirlwinds of brilliant fish. This is one of the world's most prized and protected diving destinations, and Palau boats unimaginable riches just below the surface.
Explore dizzying drop-offs and covers by descending into the exquisitely peaceful, ethereal Blue Holes. Watch the sunlight dance above you as you sink deep into an indigo abyss. Enjoy spellbinding drift dives as you clip into the reef at Blue Corner and relax as an endless parade of sharks and rays put on a show all around you. Visit haunting historic wrecks where the remains of planes and ships sunk during WWII as you experience the eerie thrill of world-class wreck diving.
Sam's Tours

Sam's Tours is committed to providing guests with the highest level of service, safety and a personalized quality experience. With daily dive tours offering divers of all levels the chance to explore Palau's magnificent reefs and biologically diverse environment.
A typical day of diving with Sam's Tours beings with an 8:30 a.m. (unless otherwise stated) complementary pickup from various hotels in Koror to their dive center in Malakal.
Most dive sites are located about 45 minutes from Sam's Tours, offering guests picture-perfect scenic boat rides through the mushroom-like Rock Islands. Surface intervals and lunch breaks are normally spent on either a white sand beach or on top of snorkeling sites with stunning shallow reef plateaus.
They also offer kayak day tours, land tours, island hiking tours, Rock Island tours, WWII History Peleliu tours, and aerial tours.
Ocean Hunter III

This 96 foot former research vessel has 8 cabins (accommodates 16) all with private bath and a/c. There is a large dining room and a comfortable salon with sofas and an entertainment system. The Ocean Hunter III was designed by divers specifically for their fellow divers and explores the reefs of Palau as well as special trips to places such as Yap. Diving includes visiting World War II wreck sites, German Channel, Big Drop Off, New Drop Off, Blue Holes, German wall, Barnum wall, Blue Corner, Virgin blue hole, Turtle Cove, Ngedebus coral gardens, Ngedebus wall, Fairyland, and many more!
Palau - Rock Islands Aggressor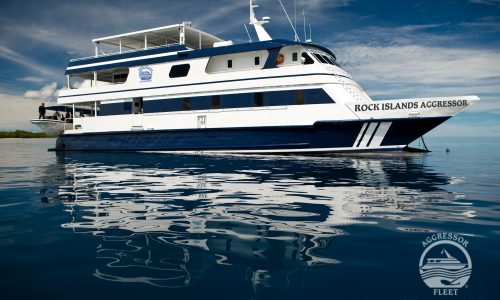 The Rock Islands Aggressor is a spacious, comfortable catamaran specifically built for divers, stretching 106 feet long and accommodating 18 guests. Once settled in on this comfortable yacht you'll be ready to focus on the huge variety the underwater world of Palau has to offer.
All dives are made from the 18-passenger dive skiff, which is lowered into the water by a hydraulic cradle. Seven-day charters are Sunday to Sunday with five days and one-half days of diving.
Palau Aggressor II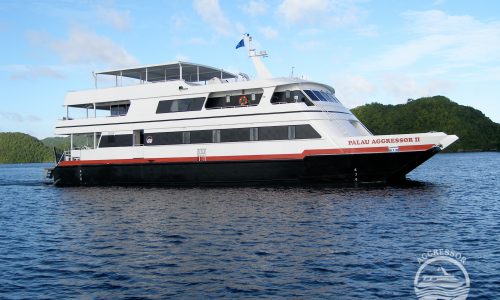 This 106 foot vessel has nine staterooms all with private bathrooms, individual climate control and generous storage space in every cabin. Most dives are made from a 30 foot skiff. On the dive deck there is camera table and rise tank. A self-service indoor/outdoor bar is open 24 hours a day.
SY Palau Siren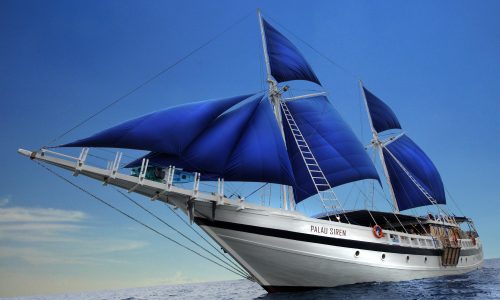 Launched in 2012, the custom built 130 foot Indonesian Phinisi hosts 16 guests on 7 & 10 night itineraries. The Palau Siren offers double or twin bed accommodations with air-conditioning and en-suite cabins.