Honduras is located in the heart of Central America and full of adventure. With white sand beaches, rain forests, mangroves, mountain ranges and the Mesoamerican Barrier Reef System (the world's second largest barrier reef), Honduras is considered a biodiversity hot spot.
On the Northern Coast Honduras borders the Caribbean Sea with long stretches of beautiful beaches, beyond the beaches are the Bay Islands which are surrounded by the Mesoamerican Barrier Reef System. The reef system extends along the coast of four countries: Mexico, Belize, Guatemala, and Honduras and is home to more than 500 species of fish.
Situated on the edge of the reef system is Utila, an unspoiled tropical island with a quaint Caribbean atmosphere and a distinct feeling of still being "undiscovered". It is known for its friendly people, natural beauty, excellent diving and frequent whale shark sightings.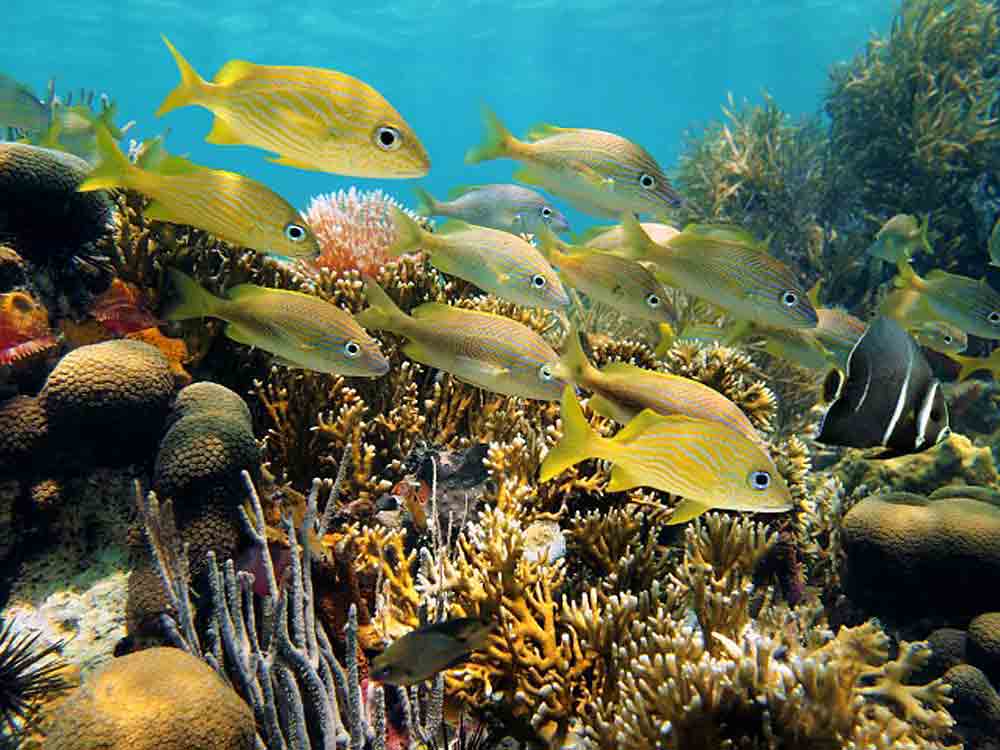 How do you want to travel?
Anthony's Key Resort

Anthony's Key Resort is hugged by the Mesoamerican Barrier Reef System, the largest barrier reef in the northern hemisphere. It's home to thick, vibrant coral, playful dolphins and varied marine life. This enchanting undersea adventure is just minutes from your bungalow.
56 charming wooden bungalows dot the resort's palm studded hillside and rim its shimmering lagoon. The charming bungalows are perched above the ground, creating a scene reminiscent of a quaint island village. Each bungalow has fully screened louvered windows from floor to ceiling, private bathroom, ceiling fans and either a porch or a sundeck with hammocks.
Cabanas on Clark's Cay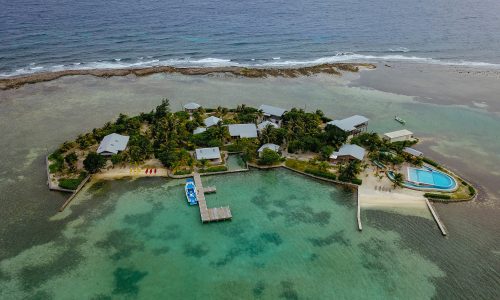 Cabanas on Clark's Cay in the Bay Islands, Guanaja, Honduras, is a 4-acre island oasis that offers incredible seascapes from every room, an open-air restaurant and bar, an infinity pool and spa along with a meandering lazy river to watch the sunset. Accommodations consist of beautiful air-conditioned 1 and 2 bedroom "Island Cabanas" with wrap around porches to enjoy the sea breeze.
Cabanas on Clark's Cay guests will enjoy the splendor of Guanaja's coral reef system featuring dives on pinnacles, walls, and the wreck of the Jado Trader. Guanaja features over 50 dive sites with incredible diving on both sides of the island.
Coco View Resort

CoCo View Resort is located on Roatan, the largest of the Honduras Bay Islands and an extension of the Sierra de Omoa mountain range. With 29 intimate guest rooms all situated on the water's edge or directly over the water, all rooms are air-conditioned for your comfort and equipped with in room coffee pot, mini fridge, lockable security box and hammocks.
An incredible array of marine life is just a few fin kicks from the Clubhouse. You can enjoy unlimited shore diving & snorkeling to sites like CoCo View Wall, Newman's Wall or the Wreck of the Prince Albert. Two boat trips depart CoCo View daily allowing divers to make up to 4 boat dives a day, including the drop off on the way back.
Dunbar Rock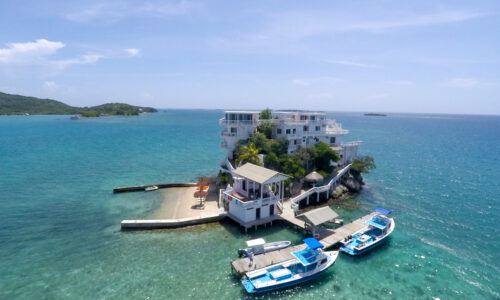 The Villa on Dunbar Rock is perched on a private cay off the mainland island of Guanaja. This unique resort blends beauty, serenity, and something special while retaining a casual rather than elegant atmosphere. Once a private villa, this resort property is spread across 4 floors, complete with eight air-conditioned rooms with private bath and balcony, rooftop bar, private helicopter pad, infinity pool & indoor gym, indoor bar and dining area, sandy beach area and a PADI 5 Star Dive facility with 3 custom dive boats.
There are 50+ named Guanaja dive sites, another 6 or so "kept secret" by the Dunbar Rock dive staff for their guests only. More dive sites being discovered every day along the barrier reef off Guanaja and around the numerous cays that surround the island.
Infinity Bay Spa & Beach Resort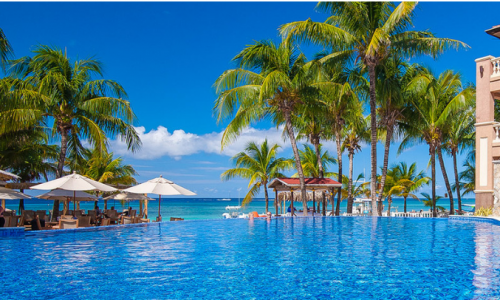 Infinity Bay Spa & Beach Resort offers luxurious accommodations and amenities on Roatan's award-winning West Bay Beach, one of the top 10 beaches in the world. This upscale beach property features a 300-foot long infinity pool—the largest on the island.  Bordering the pool are swaying palms and 145 spacious Spanish style villas, all boasting balconies with views of the pool, exotic gardens and turquoise water.
Underwater adventures abound with the world's second largest barrier reef less than 50 feet from the shore. When you're in need of refreshment out of the water, their restaurant and beach bar combine first class service and taste for exceptional dining experiences.
Whether you are looking for an action-packed vacation or a relaxing, romantic getaway, the options for unforgettable stays are infinite.
Turquoise Bay Dive & Beach Resort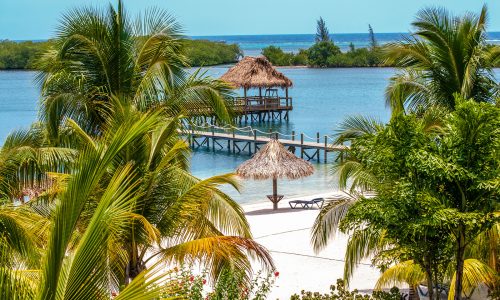 Located on Roatan's Northeast shore Turquoise Bay is the only dive resort in this lush and remote area of the island providing you with the opportunity to dive uncrowded and pristine dive sites. With 26 spacious rooms nestled throughout the property, the resort is set on a hillside with spectacular ocean views and a protected bay which makes the water calm and perfect for swimming and kayaking. Beach lovers will enjoy the private, tranquil 500 ft white-sand beach.
Utila Lodge Island Dive Resort

The tropical island of Utila is located approximately 18 miles from the Honduras mainland in the Caribbean Sea. Set out over the turquoise Caribbean waters in the calm Utila Bay. Utila Lodge is the largest built-out-over-the-water structure on the entire island. No matter where you are on resort property, the Caribbean is splashing just a few feet below you. The lodge is located right in the center of town, giving you easy access to the local shops and restaurants.
Utila Dive Lodge is a family owned and operated. There are eight air conditioned rooms, all newly updated, with hot water showers, dual vanities, ceiling fans, cable TV, wireless internet and a separate outside area for drying wet gear.
Utila Lodge is a dive dedicated resort with a full service dive shop including equipment rental and underwater photography gear. Utila Lodge has an onsite PADI 5 Star dive school, Bay Islands College of Diving.
Roatan Aggressor

The Bay Islands of Honduras are world-renowned for their sheer walls, mystical wrecks, massive barrel sponges and captivating macro critters. These waters are also home to larger marine species, such as Whale Sharks, Caribbean Reef Sharks and Bottlenose Dolphin. The Roatan region of Honduras has fantastic critter scuba diving with subjects like Electric Rays, Longsnout Seahorses, ferocious looking Spoon-nose Eels, Rough Box Crabs, Yellowheaded Jawfish, Sailfin Blennies and even Southern Stargazers.
The 120ft Roatan Aggressor offers up to 5 dives per day, exploring the best of Roatan, Utila and Cayo Cochinos. All dives are conducted from the mothership. The 7-night itineraries run from Saturday - Saturday and depart from Romeos Restaurant on Roatan in French Harbor. The vessel accommodates up to 18 guests in 9 ensuite staterooms.