Travel has Begun!
As our clients return from their first trips of the year, they've started to share their journeys with us in the hopes of  encouraging others to begin traveling again.  The following trip reports were written by some happy travelers.
Galapagos Travel Log:
Jim Barber and his small group had this to share about their recent journey to Ecuador and the Galapagos in November…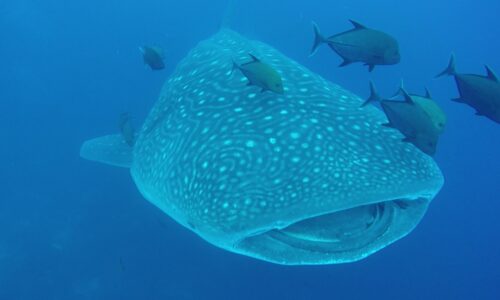 A huge Thank You to the South Pacific Island Travel (SPIT) staff for all they did to help us get through the difficulties of travel to the Galapagos when everyday the rules and travel restrictions were changing.  We had scheduled our Galapagos travel a year ago and little did we know the challenges we would have to overcome to get there when our trip had been cancelled and rebooked 4 times.  Throughout every cancellation SPIT stood by our side and we were so happy when it all came together after the fourth try!
Once we embarked on our travels to Ecuador,  SPIT continued to follow us through on our journey and ensured that after we landed in Ecuador we were greeted by the Galapagos Sky live-aboard staff and taken care of for the next 10 days.  As for the Galapagos Sky Team, they were amazing for what they did to get us  through the travel restrictions imposed by Ecuador and The Galapagos.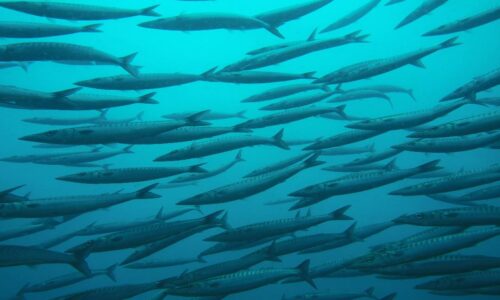 The Galapagos Sky is an amazing boat and beautifully furnished with all the amenities a diver could ever want.  The crew was fantastic and treated us like nothing we have ever experienced on a live-aboard before.  The dive masters were local to the Galapagos Islands and exhibited so much passion for what the islands meant to them… it showed with the dive sites they took us to.  The Galapagos boat crew had a philosophy "all hands on deck" when we geared up for the dives and when we came back from the dive site, which was so helpful for the amount of equipment required to dive the Galapagos.
From Whale Sharks, Hammerheads, red lip bat fish, seahorses, Mola Mola, swimming iguanas and much much more…. We saw it all!  LOVE LOVE LOVE the Galapagos Sky.
Socorro Travel Log:
Longtime clients and friends Barry & Jill Levenson just returned from Mexico and shared their travel experience with us. The following are some highlights of their time in Socorro.
We flew from Seattle to San Jose then on to Cabo on November 12 so we could board the Belle Amie on the 13th.  We were a bit apprehensive about flying but were relieved to see that Alaska Air enforced the mask rule. I think we may have been overly prepared.
We spent one night in Cabo at the beautiful Playa Grande Resort, and were pleasantly surprised that the Hotel and its restaurants took mask wearing and social distancing seriously.
At 4 pm on boarding day we brought our dive gear and luggage to the Nautilus guest lounge at the Tesoro Hotel where we checked in. A Nautilus medic took our temperature, blood oximetry and blood pressure and we answered a series of screening questions about Covid prior to boarding the beautiful Belle Amie. Once on-board the Captain gave a short briefing and discussed Covid safety protocols.
Soon we were motoring past the famous Arch of Cabo San Lucas on our way to Magdalena Bay where we hoped to be able to snorkel near bait balls of Sardines and the Striped Marlins that feed on them. This was an exploratory dive for the Nautilus group. After three days we left Magdalena Bay for St. Benedicto.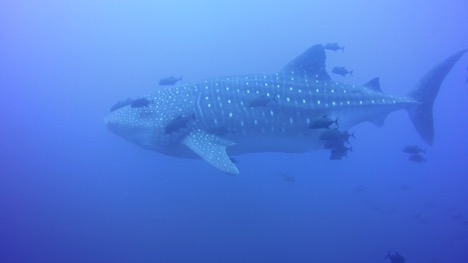 Our first dive here was the famous site called The Canyon. After a detailed briefing we knew to expect a healthy current so we did a negative entry and immediately made our way to the wall. I was muttering under my breath as I clutched the reef and followed the other divers to the far edge all the while trying to keep my mask from blowing off my face. I laughed at myself because  as soon as we reached our destination a spectacular 35 foot whale shark moseyed up to our little group as though she was expecting us. She leisurely swam around us for the rest of the dive.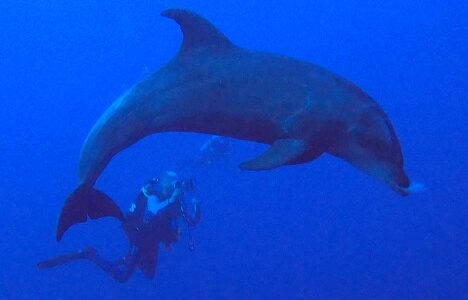 The next day we stayed near St. Benedicto and dived the Boiler, probably the most famous of the Socorro dive sites. A large group of gregarious dolphins were there to meet us.  Since this is our fourth trip with the Nautilus fleet we are very familiar with these amazing Dolphins but this time we saw something new that surprised and delighted us. One of the biggest Dolphins went vertical about 10' in front of me. She had a piece of plastic back in her mouth and was waving it back and forth. I was alarmed as I thought she was going to eat it but I quickly realized that she was taunting us, like a dog with a bone. She would casually let go of it and when one of us tried to grab it she would quickly move in and snatch it back. It was remarkable and pretty adorable.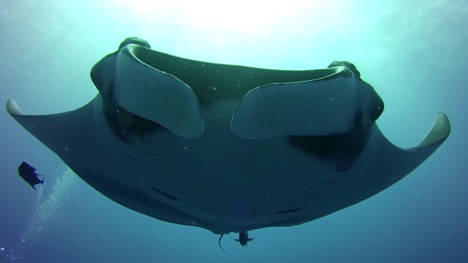 Mantas would usually make an appearance at least once each dive, and we were almost constantly surrounded by White Tip, Silver Tip and Galapagos sharks while Hammerhead sharks lurked in the current. We even spotted a large Tiger shark warily eyeing us from afar. It was a fantastic day!
The crew wore masks when humanly possible for the entire cruise.  There were 20 guests so meal times were staggered in order to try to maintain social distancing during meals. The guests were also asked to wear masks in all public areas.
This was a magical trip and worth every bit of perceived risk. We can't wait until our next trip. The boat  is kept immaculately. The entire crew was warm professional and helpful at every turn.
__________
We'll continue to monitor travel restrictions for you and keep you apprised of new countries opening up to travel.  With a vaccine on the way, we're looking forward to a New Year filled with travel and more adventures. If you have a travel story to share, let us know!