Guest Columnist:
Amy Christopher is Head of Travel Operations and Co-Owner of Ocean First in Boulder, Colorado, a long-time client of South Pacific Island Travel.  The group just returned from a much anticipated trip to Belize, and from the sounds of it they had a wonderful time! The following column is her trip report: 
Ocean First's November trip to Belize was a "COVID shuffle" originally scheduled to run in April 2020. Here we are in November and after many shifts in dates and participants we were ready to go. All systems go and then there was Hurricane Eta due to hit Belize on the day we were supposed to arrive. It is 2020 after all. We moved the trip out 2 days and were rewarded with a week of absolutely perfect weather.
COVID safety measures were obvious and adhered to from our arrival into Belize (BZE) and all the way to the hotel. All travelers must show proof of a negative
PCR COVID test
taken within 72hrs on arrival. If your results did not arrive in time or you didn't get a test in advance they have a rapid test on site for $50USD. It takes 20 minutes to get the results returned and you are on your way. There is a great deal of reassurance seeing how seriously COVID is taken in Belize and knowing that your whole group tested negative was very reassuring. Our temperatures were taken on arrival into the country as well and they have solid contact tracing measures in place.
Sunbreeze Hotel
greeted our group warmly and it was obvious they were thrilled to have guests (and especially a group) back on the property. After an efficient check in we were shown to our rooms. The property is immaculate with signage everywhere reminding us to wear masks and socially distance. The rooms are spacious and tidy and honestly have the most comfortable beds I have ever had in a hotel. Everyone said the same and we have all been sleeping so well.
The restaurant is operating on an abbreviated schedule until tourism perks up again. They were very accommodating and the food is great. After a relaxing and an early night we headed over to the dive shop to get checked in.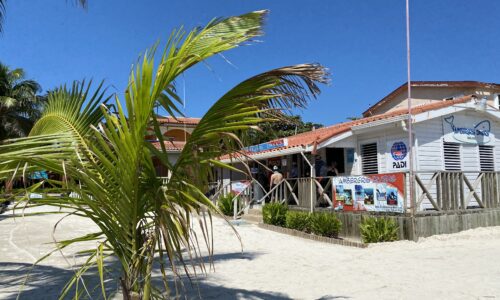 Ambergris Divers
was ready for us. They are also following solid COVID procedures and greeted us with enthusiasm. We had our forms filled out in advance so the process went really fast. After getting everything settled we were ready to dive. Our group had the boat to ourselves and we had an awesome crew all week. Manuel and Flip were our divemasters and they are fantastic; so patient, friendly, knowledgeable, and clearly happy to have divers again. The diving has been off the charts awesome and I have never seen a group of divers so happy and relieved to be back in the ocean after what feels like an eternity. The first dive is always a bit of trial and error as we settled in and got weights figured out and the initial jitters out of the way.
First dive: sharks sharks sharks. So many sharks. Huge nurse sharks, baby nurse sharks and several robust Caribbean reef sharks all cruising around. The divemasters hunt lionfish and the sharks love them so they do tend to associate divers with a lionfish snack. The nurse sharks in particular are developing a taste for lionfish and will hunt them on their own which is great for the reef ecosystem.
Our dives really were amazing. Aside from the sharks we had moray eels, octopus, Southern stingrays, schools of eagle rays (!!!), healthy corals, hawksbill turtles, dolphins (!!!), and so much more. The water temp was 82F and we literally had perfect weather. Sunny, no rain, calm seas, clear water. It was so wonderful and everyone was so grateful to be here. After a very tough year we all felt an enormous sense of gratitude to have something go so right for once. So much has been postponed or canceled and here we were... doing what we love and living in the moment.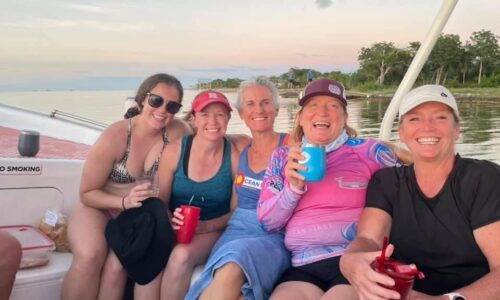 We have a group out exploring the Mayan ruins today and the small contingent that opted out are relaxing by the pool or perhaps going paddle boarding later. We head out tomorrow after a much needed vacation and break from the world. To say we are getting a break from reality is kind of backward. We are getting a break from the world and thriving in reality. Get out and travel! It is totally manageable. Life will pass you by if you let it. This group has chosen to get out and do it and we are so happy we did.