For the last several months, I have heard the islands calling out to me. And now that Hawaii is open to travel again, I decided it was time to pack my bags and answer their call! Hawaii's Pre-travel testing program allows travelers, who test negative for COVID-19, to visit without quarantine.  So this past weekend, after a few easy requirements, I left Seattle for Honolulu.
Things to Know: 72 hours before departure visitors are required to take a Nucleic Acid Amplification (NAAT) pre-travel test, available through one of Hawaii's trusted testing and travel partners.  After receiving the results, you will need to create an account online at Safe Travels Hawaii, complete the required details, fill in your travel itinerary, fill out a health questionnaire, and upload a current picture of yourself along with your test results. On the day of travel, just head to the airport as normal! (This is a helpful video regarding how to prepare)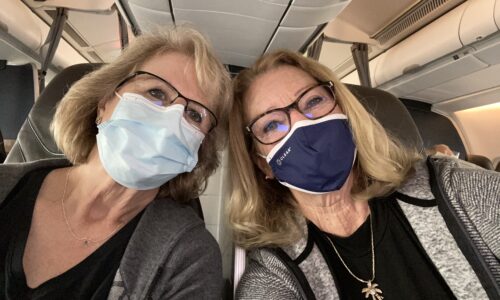 We flew on Hawaiian Airlines where all staff and passengers wore masks, and the plane was sanitized.  During the flight, the crew offered us beverages and food service, which was the only time we removed our masks. Upon arrival in Honolulu, we followed the signs to the COVID line. The entire process to get through the line and collect our luggage took about 90 minutes.  We had no trouble catching a taxi to the hotel, the driver wore a mask and the taxi was very clean.  Because a large portion of Waikiki businesses is still closed, we had very little traffic on the way to our hotel.  Check-in at the hotel was a breeze, with no lines and everyone wearing masks.  And, although the streets of Waikiki were noticeably quieter than the hustle and bustle we are used to, it felt good to be back on the islands.
Travel make a look a little different now, but with a little pre-planning, it is easy to do.  Hawaii is excited to welcome you back and when you are ready to travel, we'll be ready to help get you there. More shops and restaurants are opening daily, so if the islands have been calling to you, maybe it's time to answer the call!
Now that I'm back from my trip to Hawaii, I'm making plans to take a group to Cozumel. It's time for us to get back to travel, to support our tourism friends and explore this amazing world, keeping our safety and the health of those around us a priority.