Remember the good old days, not so long ago, when planning a vacation simply required saving some money and scheduling a few days off work?  When the hardest part of planning a trip was figuring out which beautiful destination we wanted to visit next?
At South Pacific Island Travel, we've seen firsthand how frustrating it has been for our clients, but we've also worried about how our tourism partners, located across the world, have been coping with the sudden lack of tourists coming in their doors. Over the last six months, resorts that would normally be booked solid, were forced to close temporarily, or find new sources of income to survive the resulting shutdowns and travel restrictions. They've been spending the down time rethinking their operations so when travel resumes, they can be better prepared to address and handle all the issues stemming from COVID-19.  We reached out to several of our long-time tourism partners to find out how they are doing and get their reaction to the current situation.
Their answers to our questions are below:
How is your business coping with COVID 19 and planning for future travel?
DIL: Indonesia, as a country, has closed its doors to international tourists until the end of the year, and we hope to be able to receive guests again early 2021.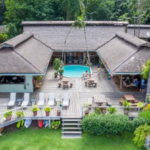 WPR: Our business was affected dramatically by COVID-19, with 100% of our business disappearing over a few days back at the end of March. We were however (due to relaxed travel restrictions domestically) able to re-open for business in early June and have been operating at a reduced capacity with some small weekender/public holidays and school holidays domestic bookings. We go into semi-lockdown during periods of no business, and back to full capacity when needed depending on number of guests in-house. We have also adapted to new health and social distancing regulations. In terms of planning for future travel, we are focusing on keeping the resort, all infrastructure and machinery maintained while we wait for international borders to reopen.
PTR: We were struggling at the start of all this; however, we are staying afloat by diversifying our business.
BL: We are safely moored up at a small shipyard in the west of the Solomons and we are in semi-hibernation. We have kept our core crew on to keep the boat in good shape for when things restart.
What kind of changes have you incorporated to handle COVID-19?
DIL: When we can receive our International guests again, we will of course be implementing all recommended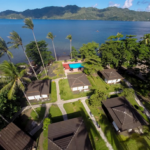 protocols to ensure the safety of our guests and staff. Some examples are temperature control upon arrival at the resort. Hand sanitizer available for guests to use in public areas and rooms. All public areas cleaned according to COVID-19 protocols, including dive boats and guest dive equipment. As a small resort with a large open-air restaurant and bar area, we have plenty of ventilation. Diving is always done in small groups of maximum 4 per guide anyway, so social distancing in our resort is easy!
WPR: Social distancing, hand sanitizing stations, hand washing stations, compulsory face masks, more cleaning and disinfecting, and reducing contact with guests.
PTR: We have a local 50% Off Special to entice the Expat families in Suva to stay with us, which is working well. We are holding a Saturday night function each week with a live band, cheap eats and drinks and the local people of the area LOVE it. We open for Sunday lunch each week and our friends, locals and other resort owners are supporting us by enjoying lunch in paradise. We have transformed our veggie farm into a kava farm (kava sales are very high right now) and we are selling our eggs (we have 200 free range chickens).
BL: As the border to the Solomons is totally closed we have not had any guests onboard since March. As soon as borders reopen and flights resume, we will implement the latest safety procedures based on DAN's and other accepted internationally recognized recommendations.
Are you changing your policies regarding cancellations and bookings?
DIL: We have been re-scheduling all our guests to later dates free of charge.
TR: Yes, we have changed our booking policy to become more competitive and flexible in the case of cancellations and payments.
WPR: Yes, we are offering 100% credits to cancelled bookings that may have otherwise been non-refundable.
BL: As guests have not been able to travel to the Solomons for their trips, we have been offering full credit of money paid to future trips. Our booking policies are still the same, but we do not expect people to pay finals until things have improved.
What are your plans for handling COVID if a guest becomes sick?
DIL: We have a doctor that we can contact that makes house-calls. If a guest becomes sick, we can isolate this person in their spacious bungalow, where we can serve them their meals.
PTR: We are in the process of implementing training plans for when our staff return to work and will have a set
plan for this very thing. Contact the local Health Centre/Hospital and the Ministry of Health (MOH), arrange transportation to the Hospital and send the MOH guest details for tracing.
WPR: There is a COVID-19 Centre in Kimbe and any sick patients would be sent to the hospital for testing and treatment.
BL: The Solomons have been careful in closing their borders right away and keeping them closed and have had no cases so far, we expect that to continue. We would be a bit surprised if things reopen before there is a vaccine and once there is, then guests getting sick will not be such an issue. If it is still an issue, then we will again follow the latest advice at the time.
What are your concerns for the future?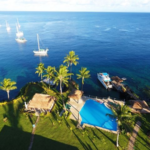 PTR: We are concerned that certain countries may not be able to travel (USA) for some time and this will certainly affect our lifestyle. The USA is our biggest market, and we are concerned that they may be restricted from entering Fiji. We are concerned about the Domestic Flight prices being so high and this will deter the AUST and NZ travelers from travelling to Taveuni.
WPR: Vaccines taking too long to manufacture and/or distribute, local governments not offering enough assistance to the tourism industry, people still being hesitant to travel abroad regardless of opened borders.
BL: Once the border is open and travel is open, we will be back operating straight away, we have a lot of rescheduled bookings and will be busy. Our main concern is that the pandemic situation will carry on much longer than expected.
What do you miss most about tourism right now?
DIL: The company of our guests!
WPR: Meeting and greeting guests from all around the world as well as being able to travel to visit family and friends and holiday abroad.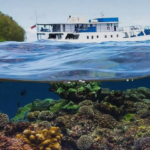 BL: We miss running trips and taking people diving to the wonderful reefs of the Solomons. We miss going diving in the Solomons (and other places) ourselves. We miss being able to fully pay our staff and make a living from doing something we love.
What would you like to share with our clients?
DIL: We are trying our very best to continue to support the staff members we have had to temporarily lay off in this difficult time. With donations of kind guests, we have been able to provide all staff with monthly care-packages of food supplies, which is heart-warming. We will continue to do so until we are able to receive our guests again, and when we do, the whole team will be ready to welcome everyone!
PTR: What we have learned through this pandemic is that to survive we must diversify and think outside the box. Once travel resumes, our business will be bigger than ever as we will have a whole new local market to continue servicing as well as the international market that we have been used to. We are ready to welcome international travelers back as soon as the flights start up.
WPR: We are doing fine, despite the global situation. We wish there were more government support here in PNG, but we are confident that once borders reopen our loyal clientele will be eager to return to PNG, and hopefully PNG will receive even more tourists as people who may not have travelled much before start looking at going to more exotic destinations after almost a year of being contained within their state/country.
BL: We are doing OK - fortunately, there are no cases of the virus in the Solomons. It is obviously a difficult time but everyone in the Solomons seems to be coping OK. Our thoughts go out to those in countries not coping with things so well and to those who have lost loved ones. We just hope that there can be more coordinated action worldwide on the virus and that a vaccine is found soon.
We appreciate hearing how much effort our travel partners are putting in to making sure future visitors are being taken care of in a safe and welcoming environment.  It is refreshing to hear how excited they are for tourism to resume, and how much they look forward to hosting visitors and introducing them, once again, to the beauty in and around their resorts and liveaboards.
One thing we all have in common after reading their answers –when the world opens back up to tourism, we will all be ready to travel to start again!
For a list of locations currently open to travel, visit our It's Time to Travel, Now What? blog.